Yesterday's post
was satisfyingly controversial, so I've decided to continue on with part two.
The problem is, the list ("What a human being should know") from yesterday was meant to be short and, mostly, silly. After some thought I realized there needed to be a few more items.
Swim
Everybody should at least know how to keep from dying if they fall into a pool. It's not all that hard, you just hold your breath and wait until you float. It's amazing how few people can hold their breath. On second thought, if you aren't smart enough to swim, you shouldn't learn, so the rest of us can throw you in a pool when you get too annoying.
Unless Brad is a vampire, you deserve it.
Ride a Bike
It's good exercise, doesn't pollute the environment, and is fun. How long has it been since you've ridden a bike? You'll remember how. It's just like remembering how to... Um... Shoot, what's as easy to remember as how to ride a bike?
You can even buy a tandem bike so all your friends can hop on!
Stay Fit
As food becomes easier to produce, people become fatter. It's worse in the United States, but other countries are having an obesity epidemic as well. I don't blame people for being overweight, humans have been obsessed with gaining and keeping fat for millions of years, but we have to learn how to fight it.
If it helps, here's a picture of me to inspire you to get fit.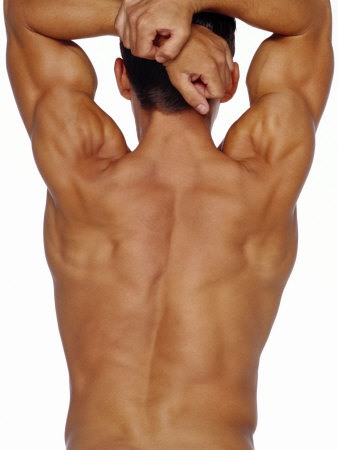 I'd show you my front, but I don't want to inspire you too much.
Pass on Your Knowledge
I covered this one last time, but not in the depth I wanted to. You know what humanity's greatest accomplishment is? Go on, guess.
Nah. It's not like we found alien robots up there or anything cool.
No! Only the cockroaches think that was a good idea.
What? No! Well, okay, that is pretty cool.
The written word and libraries. Okay, those are two accomplishments, but one follows directly from the other. What separates us from the apes isn't civilization, use of tools, or lack of fleas, but our ability to pass knowledge on to future generations. If you really want to help humanity as a whole, write a book. And, for crying out loud, learn your basic grammar, punctuation, and spelling! You sound like a moron when you write run-on sentences.
Educate Yourself
When I was younger, I thought I was possessed with the dragon-shaped spirit of vengeance. When I was younger, I thought I was the sole disciple of the imprisoned titan Prometheus. When I was younger, I thought that lighting a candle by the dead would return them to life. When I was younger, I thought Cool Whip was really whipped cream. One of these things I believed in turned out to be a lie.
WTF is that stuff, anyway?
Humans believe in total crap. Not everything we believe in is wrong but...
No, scratch that, almost everything we believe in is total crap. You name it; scientists will probably prove it wrong next week. So, what do you do? Search for corroborating evidence. Challenge everything you think is true. Constantly re-evaluate your beliefs.
Learn.