Anne McCaffrey died one week ago today. Her death passed most major media outlets because she was a science fiction novelist whose works hadn't even been turned into movies yet.
And because she wasn't a teenybopper.
More on that in a moment.
McCaffrey is best known for her twenty-two
Dragonriders of Pern
novels, which I started reading back in 2004. My father had been a fan of the books, and I had heard a few of them on tape, so I had been curious. I went to the library and found the first book:
Dragonflight.
I got hooked on the prologue, which described how the native fauna of one world found a way to attack the people on the other, and how dragons had been developed. Having recently completed a screenwriting class, I immediately saw how the book could be made into a movie.
Of course, I had to make some changes. Many of the characters needed to be fleshed out. Some of the plot threads had to be dropped and others elaborated. Anne had changed how a few things worked over the course of the books, and I had to pick which versions I liked best. When I didn't have all the information I needed to finish the screenplay, I read the other books and scoured the web.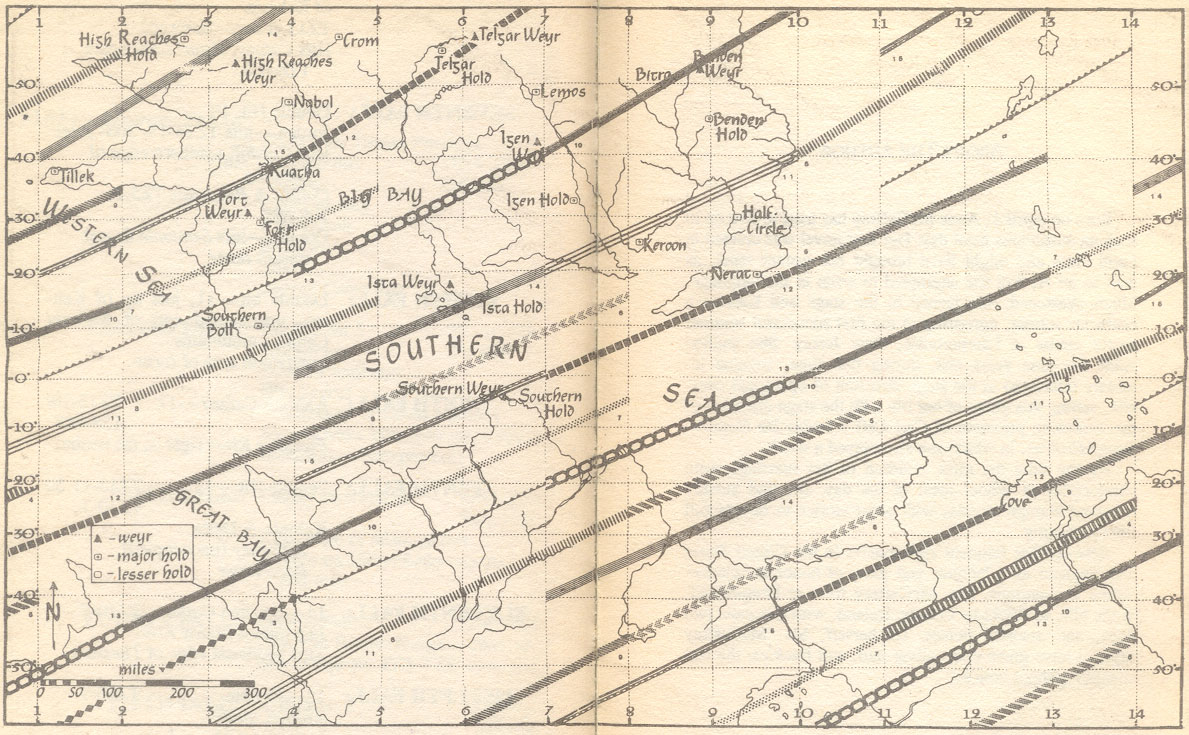 Someone even made MAPS!
It was the most fun I had ever had as a writer, perhaps because I
knew
what I was working on was good. When I was done, I called up the publisher and asked for the rights. Someone had not only taken the rights to
Dragonflight
, but to the whole series (which they offered to sell me when the rights expired).
Crushed, I stuck the screenplay in a corner of my hard drive and tried to forget about it. Every time I heard rumors they were working on
a television show or a movie
, I sighed and hoped I'd find an excuse to bring out my screenplay to show the world.
Heck with it all. Anne is dead. Here it is.
               EXT. SPACE

               A bright blue star hangs in space.  As it moves away, words
               appear below it:

               RUKBAT (ALPHA SAGITTARIUS): 

               CLASS B STAR

               SAGITTARIUS CONSTELLATION

               A planet moves into view.  It is a beautiful blue-green world
               with four large continents and swirling clouds.  The words
               change to:

               PARALLEL EARTH, RESOURCES NEGLIGIBLE

               Which shortens to:

               PERN

               Two small moons pass by as the planet grows larger and
               larger.  A derelict spacecraft labelled Yokohama flies by. 
               The clouds grow misty and transparent as the northern
               continent grows.  The mountains reach towards the sky and,
               finally, a castle in the mountains is visible.  

               The castle is a rough stone fortress, built for defense
               instead of beauty, and half buried in the rock of the cliff. 
               Giant, stone walls snake in all directions, punctuated at
               five corners by large firepits.  

               More words:

               RUATH HOLD, RUATHA, THE HIGH REACHES

               13 YEARS UNTIL THREADFALL

               This final line stays visible as the other words fade.



               INT. BEDROOM - MORNING

               This is one of the bedchambers suited for the noble family. 
               While it is not garish in its decoration like one would
               expect of Earth's modern royalty, it is still unusually
               intricate in its trappings.  A giant tapestry of
               scintillating thread hangs on one wall, depicting a sky with
               a glinting, yellow dragon flying over Ruath Hold, which is
               shown under construction.  There are two, cushy beds filling
               most of the room, each containing a snoring child.

               LESSA, a beautiful 10-year-old girl, sits up suddenly from
               one of the beds, clasping her hands to her head and moaning
               in pain.  She gets to her feet but is nearly unable to stand,
               and staggers to the door.  She opens it, still clutching her
               head with one hand and finds herself...



               EXT. BALCONY - MORNING

               LESSA'S balcony is a small stone affair that looks out over
               the walls and fields of her home.  She coughs and gags but
               controls herself by inhaling deeply of the morning air.  Her
               fingers clutch at the stone railing and, as she looks out at
               the sunrise, her eyes widen in surprise.  A giant

               GOLD DRAGON IS FLYING ABOVE HER, HEADING INTO THE SUNRISE.

               From this angle, it looks just like a dragon out of a fantasy
               novel, except that it has smooth skin instead of scales. 
               Lessa blinks, rubs her eyes, and looks back to find the
               dragon has vanished.  She turns and hurries back inside.

               A beat later, a grappling hook appears on the stone wall
               below.



               INT. BEDROOM - MORNING

               LESSA sits down on her brother SILON'S bed.  He is still
               sleeping, or trying to sleep as she shakes him.  He moans and
               turns away from her.

                                   LESSA
                         I saw a dragon, Silon.

               Silon takes his pillow and puts it over his head, trying to
               block Lessa out.  She grabs the pillow and yells into his
               ear.

                                   LESSA
                         I SAW A DRAGON!

               Silon sighs and turns to look at her.  He is pale and slender
               but a healthy young man a few years older than Lessa.

                                   SILON
                         You had a dream.

                                   LESSA
                         No I didn't.  I mean, I did, but I
                         saw the dragon after I woke up.  It
                         was flying right above us.

               Silon sits up, putting on a pair of primitive, wire-framed
               glasses from a small wooden table by the side of his bed.

                                   SILON
                         What color?

               A beat as Lessa thinks.

                                   LESSA
                         Gold.

               Silon lays back down on the bed again, pretending to go back
               to sleep.

                                   LESSA
                         What?

                                   SILON
                         You were dreaming.

                                   LESSA
                         I was not!

                                   SILON
                         Were too.

               He pulls the pillow back over his head.  She snatches it
               away.

                                   LESSA
                         Was not!

               Silon turns to look at her, his glasses now slightly askew on
               his face.

                                   SILON
                         Lessa, gold dragons are the queens. 
                         All they do is sit on the ground
                         and lay eggs.  They can't even fly! 
                         Now how could you have seen a
                         flightless queen dragon above us
                         right now?  You were sleeping.

               He turns away from her again.  Lessa stares at him, trying to
               think of a retort, then slams the pillow on his head.

                                   LESSA
                         I hate you!

               She storms out, slamming the door behind her.

                                   SILON
                             (muffled by the pillow)
                         Ow.



               EXT. CASTLE WALL - DAY

               On the same wall underneath the balcony, a DOZEN SOLDIERS
               have appeared.  More continue to climb up on several
               grappling hooks.

               They creep towards a nearby staircase, heading for the main
               courtyard.



               INT. GREAT HALL - DAY

               LESSA walks through the main meeting room of the castle.  It
               is a lushly decorated room with stained glass windows and
               beautiful banners showing the Ruathan colors of red and gold. 
               Numerous tables are arranged in careful rows.  A small fire
               is tended by a GROUP OF SERVANTS who take no notice as Lessa
               passes them. 

               She goes to a small door next to the main entrance and
               follows the stairs down.



               INT. KITCHEN - DAY

               A DOZEN COOKS slave over fires and pots.  MENIA, a heavy-set
               woman, her arms covered in flour up to the elbows, is laying
               small tart-like pastries on a cooling rack.  LESSA weaves
               nimbly through the active cooks without bumping into any of
               them until she reaches Menia.

               Lessa stares up at the pastries with greedy eyes. She's not
               tall enough to reach them, so she tugs on Menia's skirts. 
               Menia smiles down at her.

                                   MENIA
                         Hello, princess.  Right on time for
                         a fresh bubbly tart as usual. 
                         (hands Lessa a pastry) Just one
                         this time, dear.  I barely made
                         enough for everyone.  Now run
                         along!

               Lessa swallows the pastry in a gulp and then stares up at
               Menia.  There is a curious intensity to the look in 

               LESSA'S EYES.

               After a beat, Menia picks up another pastry and hands it to
               Lessa.

                                   MENIA
                             (exactly the same as
                              before)
                         Just one this time, dear.  I barely
                         made enough for everyone.  Now run
                         along!

               Lessa takes the pastry and eats it quickly.  She stares up at
               Menia with the same intensity.  Menia hands her a third
               pastry.

                                   MENIA
                             (again, the same)
                         Just one this time, dear.  I barely
                         made enough for everyone.  Now run
                         along!

               This time Lessa smiles and leaves, carrying the last tart in
               her mouth.  Menia smiles as she goes and turns back to her
               work.  She does a double take as she sees the cooking rack
               and then begins counting the remaining pastries.



               EXT. CASTLE COURTYARD - DAY

               The BAND OF SOLDIERS have killed a number of sentries, and
               their 

               BLOODIED CORPSES

               Would be clearly visible if anyone was up yet.  However, the
               courtyard is empty of people and the remaining SENTRIES are
               facing outward, oblivious to the danger.  The soldiers creep
               to the large portcullis and work to remove the giant bolts
               that secure them.

               LESSA appears from a nearby doorway, still eating her bubbly
               tart.  She walks past a stack of barrels and then stops
               suddenly, sensing danger.  Seeing the soldiers working at the
               gate, she gasps and instinctively hides behind the barrels,
               shaking with fear.

               The soldiers continue to work at the gate, finally getting it
               unlocked.  Lessa looks up at the

               NEARBY SENTRY

               Who is staring in the wrong direction.  She gives him the
               same look that she used on Menia only moments before.  After
               a beat the sentry turns around and sees the castle doors
               opening.

                                   SENTRY
                         Enemy in the courtyard!  Enemy in
                         the courtyard!

               He frantically turns a rusty crank next to him and a warning
               klaxon, which sounds like an old WWII air-raid siren, goes
               off.

               It is too late.  HUNDREDS OF ARMED MEN swarm into the
               courtyard and cut down the few GUARDS who have the misfortune
               to arrive first.  More GUARDS arrive, but the battle is
               already lost.

               Lessa continues to crouch behind the barrels, safe but unable
               to turn away from the bloody murders going on around her.



               EXT. COURTYARD - NIGHT

               The battle has ended and the invaders have won.  They stand
               cheering as their leader FAX, a hard man in ornamental armor,
               strides in through the main doors.  Servants carry the bodies
               of the slain away past the blood-spattered walls.

               Fax stands up on a box and the SOLDIERS turn to listen to
               him.  One soldier leans against a barrel near where LESSA is
               hiding.  He has a knife in his belt.

                                   FAX
                         Men, you have done excellent work! 
                         Tonight our revels will shake the
                         ground of Pern herself!

               The men cheer.  Lessa takes this moment of distraction to
               sneak out of her hiding place and gingerly take the knife
               from the soldier's belt.  She then backs into her hiding
               place again, clutching the knife, her eyes illuminated by a
               slit of torchlight.

                                   FAX
                         Bring forth the prisoners!  Let us
                         see the great might of Ruatha!

               Several soldiers drag out the LORD AND LADY OF RUATH HOLD,
               regal and proud but bruised and wearing clothing torn from
               their ill treatment.  The soldiers, including the one near
               Lessa, gather around to spit on them as they are brought out. 
               After a beat, they drag SILON out, throwing him to the ground
               next to his parents.  His glasses fall off, and he replaces
               them.  Looking around at his captors he notices

               LESSA HIDING

               And looks away quickly, pretending not to see her.

                                   FAX
                             (to the kneeling Lord)
                         Your outer defenses are a bit weak,
                         Lord Kale.

               The soldiers laugh.

                                   LORD OF RUATH
                         What honor is there in taking a
                         hold through deceit?  I thought
                         better of you, Fax.

                                   FAX
                         Oh, you wound me, Lord.  Is it
                         deceit that Ruath Hold is the most
                         profitable in the High Reaches?  Is
                         it deceit that you don't pay your
                         sentries enough so they can't be
                         bribed?  I'm not deceitful Kale, I
                         am merely an opportunist.

               At a gesture from Fax, the three hostages are pulled to their
               feet.  Fax eyes them each carefully in turn, ending with
               Silon.

                                   FAX
                         Is this your only heir? (a beat)  I
                         seem to recall you had a daughter.

                                   LADY OF RUATH
                         Dead!  She died of a fever three
                         years ago.

                                   FAX
                         Ah, how sad.  I had so looked
                         forward to... Meeting her.

               Lewd jeers from the crowd of soldiers.

                                   FAX
                         And also so sad that your bloodline
                         must end here.

               He gestures at a soldier and the Lord of Ruath is thrown to
               his knees again.  A TALL SOLDIER removes from his scabbard a

               BROADSWORD.

               Lessa steps out from behind the barrels, still unseen.  She
               fixes the tall soldier with her intense stare.  Her breathing
               is labored and sweat beads on her forehead.

               After a beat

               THE BROADSWORD FALLS WITH A SICKENING THUMP.

               The soldiers cheer.  Lessa gasps, tears welling from her
               eyes.  Fax gestures again and the Lady of Ruath is pushed to
               her knees.  The same tall soldier

               HOLDS HIS BROADSWORD POISED ABOVE.

               Lessa is grunting with effort now, her fists clenched as she
               strains with all her might to stop the soldier.

               THE BROADSWORD FALLS.

               The soldiers cheer again.  Lessa shoves her hand in her mouth
               to stop from screaming and finds she still has the knife she
               stole.  She looks back to the crowd and sees her brother
               Silon being thrown to his knees.  He looks up and sees

               LESSA STRIDING FORWARD, KNIFE POISED TO STRIKE

                                   SILON
                         No!  Don't!  Don't!

               The soldiers burst into laughter at this but Lessa, still
               unseen, stops in her tracks.

                                   FAX
                         Die like a man.

               He spits on Silon and the tall soldier beheads him.  Lessa
               collapses against a bloodstained wall, numb.  The blood from
               the wall covers her hands and smears her face.

               Fax turns to the assembled servants.

                                   FAX
                         Let all who witness this know: Fax
                         is now the lord of Ruatha!  Work
                         hard and faithfully and you will be
                         rewarded.  Fail me and follow them.

               He gestures at the bodies.

                                   FAX
                         Now, who among you is keeper of the
                         stores?

               After a beat the STORE MASTER, a haggard, portly old man
               steps forward trembling with fear.

                                   STORE MASTER
                         M'lord.

                                   FAX
                         I want to see your ledgers.  Come
                         to my chambers at first light; I
                         want to know everything that Ruath
                         Hold has.

                                   STORE MASTER
                         Yes, m'lord.

                                   FAX
                         And I saw that you are preparing a
                         train to send your tithe to the
                         dragonmen.  Unload them.

                                   STORE MASTER
                         Unload them?

                                   FAX
                         Yes.  Ruatha will no longer provide
                         those leeches with the goods we
                         need here.  If they want food, they
                         can damned well grow it themselves.

               He claps the store master on the shoulder and the man
               flinches in spite of himself.

                                   FAX
                         I am going to make Ruatha the
                         wealthiest hold on Pern!  You hear
                         me?

               The crowd disperses, the soldiers and servants going about
               their duties, as if nothing has happened.  Lessa watches Fax
               as he speaks to his men.

                                   LESSA
                         You will get nothing but pain and
                         death from Ruatha.

               She returns to her hiding place behind the barrels.  After a
               beat, a man leading a two-legged, lizard by a chain
               approaches the barrels.  The monster, called a WATCH-WHER
               snarls as the man hammers a ring into the wall and hooks the
               chain onto it.

                                   MAN
                         That's my girl.  You eat anyone
                         here you want!

               It tries to bite him and he leaves quickly.  The watch-wher
               strains against the chain for a moment then gives up,
               sniffing the air.  It senses Lessa and turns to see the 

               BARRELS

               Where she is hiding.  It approaches slowly, snarling.



               EXT. COURTYARD - DAWN

               Time has passed and the courtyard is little changed.  There
               is more grass growing and the firepits along the walls are
               now cold and dark.  A dim, red star glows faintly in the
               morning sky.

               Words appear:

               3 TURNS UNTIL THREADFALL



               INT. LESSA'S HOLE - DAWN

               LESSA is still living behind the barrels.  However, she has
               layered the floor with old blankets and created a roof with a
               patchwork of torn clothes.  It's small, but livable.

               Lessa is sleeping. She is no longer the same girl.  Filthy,
               her hair a tangled mop, she wears ragged, dirty clothing. 
               She resembles the Afghan refugee girl from the famous cover
               of National Geographic.

               There is a sound of wings flapping and she wakes up as she
               did once before: with her hands clamped to her head in agony. 
               As the pain clears, she opens her eyes and her piercing gaze
               takes in the world.  She crawls out of her hidden home.



               EXT. COURTYARD - DAWN

               LESSA stretches, massaging out the cramps she receives
               nightly from living in so small a place.  Suddenly there is a
               snarling noise and she turns, horrified, to see the WATCH
               WHER charging at her, its chain rattling on the ground behind
               it.  She cringes in fear as the

               WATCH-WHER STOPS AT HER FEET.

               The creature jumps up and down excitedly as she bends to
               scratch it behind the ears.

                                   LESSA
                         Oh, yes, you were quite terrifying. 
                         No, no, I was completely afraid of
                         you.

               She feeds it a piece of a bubbly tart she had in her pockets. 
               She wolfs the rest of it down herself. 
               Lessa turns and stares up at the sky, scratching the watch
               wher's head absentmindedly.  It looks up at her and makes a
               concerned noise.

                                   LESSA
                         I don't know.  I just feel...
                         something.  Danger.  It feels like
                         danger is coming from the east.  I
                         felt this once before.

               She stares up as the

               RED STAR FADES IN THE DAWN LIGHT.

               Lessa smiles.

                                   LESSA
                         Time to go to work.

               Her face shimmers and melts, changing to that of a much older
               and uglier woman.  The watch-wher nuzzles up to her.

                                   LESSA
                             (with the voice of an old
                              woman)
                         Now, now.  You hate me, remember? 
                         I'm just a kitchen drudge.

               The watch-wher lowers its head obediently, snarling and
               hissing at her.  Lessa smiles and hurries across the
               courtyard.

               She passes a horse and cart filled with casks of wine.  The
               DRIVER climbs off the cart.  Lessa

               SHOOTS THE HORSES A LOOK.

               The horses bolt, whinnying in fear.  They tear across the
               courtyard, turning towards the main portcullis.  The wine
               casks

               FALL TO THE GROUND, BREAKING OPEN.

               Wine spills everywhere, the horses race outside the hold
               (still dropping casks), and Lessa smiles as she goes inside.



               EXT. SENTRY TOWER - DAY

               Above this scene a SENTRY watches the commotion.  He shakes
               his head and chuckles, then goes back to scanning the
               horizon.  After a beat, he seems to sense that something is
               amiss.  He peers upward at the 

               EMPTY SKY

               Trying to fathom what is wrong.

               Suddenly,

               A SWARM OF DRAGONS APPEARS OUT OF THIN AIR.

               The dragons are huge, muscled and with bat wings.  Their eyes
               are like an insect's: multifaceted and shimmering with blue
               green light.  They fly towards the castle in formation,
               twelve in all, led by a giant bronze dragon.  The others are
               (in order of size) brown, blue, and green.  They dive
               directly towards Ruath Hold.

               The sentry begins cranking the handle and the warning klaxon
               peals.

                                   SENTRY
                         Dragons!  Dragons on approach! 
                         Dragons!  Dragons on approach!

               As he shouts, the people below look upwards and run for the
               cover of the hold's buildings.  Within seconds, the courtyard
               is deserted.



               EXT. COURTYARD - DAY

               The TWELVE DRAGONS land in formation, sweeping up dust clouds
               with their wings before they fold them at their sides. 
               RIDERS are now visible (sitting on harnesses on the back of
               each dragon) and they dismount, each standing at attention as
               he reaches the ground.

               F'LAR, a muscular, handsome man, dismounts the lead dragon
               MNEMENTH and removes a pair of primitive wind goggles.  He
               turns back to his younger brother F'NOR who is patting his
               brown dragon comfortingly.  Each dragonman wears leather
               riding gear with trim that matches the color of his dragon. 
               F'lar wears a complicated knot of rope on one shoulder that
               signifies him as Wingleader.

                                   F'LAR
                         Cheery welcome.

               He notices a patch of grass growing near his feet and crushes
               it purposely with his boot.

                                   F'LAR
                         Did you notice the greenery growing
                         up to the Hold walls?

                                   F'NOR
                             (nodding)
                         And the firepits are out.  Isn't
                         there a single place on Pern that
                         follows the traditions?

                                   F'LAR
                         They will regret their lack of
                         diligence soon enough.

               The door to the main hold swings open and FAX, older and
               fatter, enters the courtyard.  He is followed by a small
               GROUP OF RETAINERS.  They stop short of the dragonmen,
               obviously cowed by the dragons that stretch from 35 to 75
               feet long.  Fax inclines his head.

                                   FAX
                             (speaking a ritual
                              greeting)
                         Welcome, bronze rider, to the Hold
                         of Fax, lord of the High Reaches. 
                         He is at your service.

                                   F'LAR
                         We ride in Search and request the
                         hospitality of your Hold, Lord Fax.

                                   FAX
                             (leaning forward
                              conspiratorially)
                         Ah, I heard that Jora had died. 
                         So, her dragon Nemorth has laid a
                         queen egg, hmm?

               Mnementh extends his enormous head towards Fax and the man
               jumps back.  F'lar takes the bronze's head in his hands.

                                   F'LAR
                         Easy Mnementh.  He means no harm.

               F'lar turns his back to the crowd of people as he scratches
               the dragon's head.

               Mnementh speaks back through telepathy, which only F'lar can
               hear.  It sounds like F'lar's own voice but with musical
               notes woven in.  Note: all dragons talk through this kind of
               telepathy and speak in their rider's voice.

                                   MNEMENTH
                             (telepathy)
                         He's afraid of me.  They're all
                         afraid of me.

                                   F'LAR
                         Humans are always afraid of
                         anything bigger than them.  It
                         works to our advantage.

                                   MNEMENTH
                             (telepathy)
                         Oh.  In that case-

               Mnementh pulls his head away and roars like a trumpet towards
               the sky.  The other dragons follow his example.  The crowd
               reacts with barely controlled panic, backing away from the
               monsters.  Fax holds his ground.

                                   FAX
                         Why do they roar like that?

                                   F'LAR
                         They often roar at flocks of
                         passing wherries or at mealtimes.

               Fax regains his courage.

                                   FAX
                         You are welcome to our feasting
                         tables.

                                   F'NOR
                         We will also need accommodations. 
                         We are, in number, twelve men.

               Stating the obvious (the number of men) in this way is a
               slight insult.

                                   FAX
                         And the dragons?

               At this, the dragons launch themselves into the air and land
               on various walls and rocky outcroppings.  A blue dragon lands
               near the SENTRY at his post and he squeals and backs away,
               tripping over his own feet.

                                   F'NOR
                         They can care for themselves.

               Fax looks up uncomfortably at the monsters surrounding him.

                                   F'LAR
                         I must pay my respects to your
                         lady.

                                   FAX
                             (evasive)
                         Would you like to see your
                         quarters?

                                   F'LAR
                             (shrugs)
                         Duty first.

               Fax, resigned, leads the way towards the center of the hold. 
               F'lar and F'nor follow him.  The other dragon men follow some
               of the retainers to another building.



               INT. GREAT HALL - DAY

               The great hall has changed in the intervening years.  What
               was once tasteful and rich has become a garish impersonation
               of its former glory.  Many of the hangings and artwork are
               tattered and the tables are in a state of disarray.

               F'LAR and F'NOR look about in mild distaste as FAX leads them
               through the room.  Fax is immediately aware of their stares.

                                   FAX
                         Behold, great Ruatha, of which you
                         had such hopes.

                                   F'NOR
                         Ruath Hold was one of the richest
                         in the High Reaches!

               F'lar glances sharply at his brother and F'nor clamps his
               mouth shut.

                                   FAX
                         No good comes from Ruatha any more. 
                         There has been some... resistance
                         to my rule.

                                   F'LAR
                         How foolish of the Ruathans.

               They pass a GROUP OF SERVANTS who are preparing the room for
               the feast.  LESSA, who works among them, stares openly at the
               dragonmen as they pass.  F'lar notices her and she looks
               away, quickly resuming her guise as the KITCHEN DRUDGE.  A
               smile plays over F'lar's lips.  They exit and Lessa rushes
               out.



               INT. KITCHEN - DAY

               Even the kitchen has become more worn in the intervening
               years.  It is dirty, disorganized, and the staff seems
               harried and out of control.  LESSA, IN DISGUISE, enters,
               sizing the room up as if planning her attack.

               In one corner a great cooking pit is smoldering.  A LEAD COOK
               picks up a white ceramic bowl from a nearby table and

               POURS IT ON THE EMBERS, MAKING THE FIRE IGNITE.

                                   LEAD COOK 
                         Bring it here.  Now!  Twelve
                         dragonmen to feed and we have
                         little time to prepare.

               Two young men, KITCHEN DRUDGES, carry a giant rack of beef on
               a spit.  They place the spit on a rack over the fire and one
               begins turning the spit while the other ladles sauce over it
               from a black pot.

               The lead cook walks away as Lessa approaches.  She gives a
               quick, intense look at the drudge who is basting the meat and
               he pauses.  Then he goes back to ladling, however this time
               he 

               PUTS THE LADLE IN THE WHITE BOWL.

               Lessa walks off as the meat erupts into flames.



               INT. THE WOMEN'S QUARTERS - DAY

               The women live in a small, stone room with narrow windows and
               more attractive furnishings and art that depict women in
               traditional tasks (weaving, caring for children, etc.)  There
               are currently SIX WOMEN in the room, all young and pretty but
               with sullen and subdued expressions.  Some are knitting or
               doing needlework.  LADY GEMMA, the oldest by far, is
               reclining in an ornate chair; she is pregnant and almost at
               the end of her term.

               The door opens suddenly, startling several of the women.  FAX
               enters without ceremony, followed by F'LAR and F'NOR.  Lady
               Gemma stands with difficulty.  Two of the other women help
               her rise, while the others recede into the background, hoping
               to be ignored.

                                   FAX
                             (indicating Gemma)
                         The Lady of Crom, mother of my
                         heirs.

               F'lar drops to one knee and kisses her hand.

                                   F'LAR
                         Lady...

               He pauses, looking at Fax.

                                   FAX
                         Gemma.

                                   F'LAR
                             (with the air of a formal
                              greeting)
                         Lady Gemma, I am bronze rider F'lar
                         and this is my wingsecond, F'nor. 
                         We are on Search and request the
                         hospitality of your hold.

                                   LADY GEMMA
                         You are most welcome, wingleader. 
                         May your Search be fruitful.  I
                         have seen the Red Star rising in
                         the morning; a strong queen is
                         needed.

               F'lar stands up.  He stares at her with frank admiration.

                                   F'LAR
                         Indeed.  May I have the liberty of
                         your Hold and Craftholds?

               Gemma pauses and looks at her husband.  After a beat:

                                   FAX
                         Yes, you may.

                                   F'LAR
                         Then I shall take my leave of you. 
                         Until the feasting tonight, my
                         lady.  (nods to Fax)  My lord.

               They leave.  Fax stares angrily at Gemma for a moment.  She
               returns his gaze as calmly as she can.  After a beat, he
               turns and storms out.

               Gemma collapses back into her chair.  The other women swarm
               around, soothing her and attending to her needs.



               INT. KITCHEN - DAY

               The kitchen now looks like a war zone.  COOKS try to
               extinguish several small fires on the counters. 
               Broken dishes scatter the floor and SEVERAL COOKS AND DRUDGES
               are chasing a pack of dogs who are running wild, carrying
               stolen joints of meat in their jaws.

               LESSA, IN DISGUISE, is still wandering through the kitchen,
               causing mischief.  She passes by the LEAD COOK who is
               screaming at a YOUNG DRUDGE who has a plate of raw biscuits
               floating in sauce in front of him.

                                   LEAD COOK
                         I told you ten minutes!  TEN
                         MINUTES!  These are raw.  How could
                         you look at these and think they
                         were done?

               She takes a raw biscuit, dripping with gravy, and smashes it
               against his face.

                                   LEAD COOK
                         Start over.  And hurry!

               Lessa sees another drudge carrying a precariously balanced
               pile of plates and turns towards him smiling like a cat about
               to pounce on a mouse.  Before she can act, the Lead Cook
               grabs her by the collar.

                                   LEAD COOK
                         You there, drudge!  I have work for
                         you.

               She drags Lessa over to a pile of silver serving platters. 
               After a long sigh, Lessa begins to diligently polish them.



               INT. CORRIDOR - DUSK

               F'LAR and F'NOR are walking though a bare hallway, talking
               quietly.

                                   F'LAR
                         Did you see the serving woman?

                                   F'NOR
                         Which one?

                                   F'LAR
                         She was in the great hall.  When
                         she saw me looking at her, she
                         blurred her features.

                                   F'NOR
                         A kitchen drudge with the gift? 
                         Are you sure?

                                   F'LAR
                         Yes.  She has power.  Perhaps she
                         is the one we are Searching for.

               F'nor grimaces and shakes his head.

                                   F'LAR
                         What is it, brother?

               They stop before an ornate door.

                                   F'NOR
                         Can't she at least be pretty?

                                   F'LAR
                         Our last Weyrwoman, Jora, was
                         pretty and look what became of us. 
                         I think we are better off with a
                         spirited queen, no matter how
                         plain.

               They open the door and enter the Great Hall.



               INT. GREAT HALL - DUSK

               F'LAR and F'NOR enter the Great Hall.  FAX sits in a large,
               throne-like chair at the center of a GROUP OF SEATED NOBLES. 
               A lone harper plays in a corner.  No one stands as they
               enter.  

               Fax gestures for them to sit at a small table on one side of
               the hall where the other TEN DRAGONMEN sit.  As they walk
               towards their places, the door they had entered through opens
               again and LADY GEMMA appears, her face pale as she suffers
               quite obviously from her pregnancy.

               F'lar, noticing this, turns back and offers his arm to the
               woman, who takes it gratefully.  As he leads her to her place
               beside Fax, she leans in to him.

                                   LADY GEMMA
                         Beware, bronze rider.  My husband
                         is of a dangerous temperament.  He
                         loves to kill.

               She gives his arm a significant squeeze as he leaves her.

                                   FAX
                         Food!

               At his yell, the doors to the kitchens open and several
               SERVING DRUDGES enter, carrying food on silver serving trays. 
               The last tray is carried by LESSA, IN DISGUISE. 
               The food is pathetic, burned and in small portions; the
               effect is heightened by the brightly polished serving
               platters.  The LEAD COOK stands before Fax as the drudges
               take the food to the tables.

                                   LEAD COOK
                         Our best bread, fruits and roots.

               Fax looks down at the small portions with disdain.

                                   FAX
                         What is this?  Where is the rest of
                         it?

                                   LEAD COOK
                         This is all that is left, lordship.

                                   FAX
                         Left?  What do you mean, left?

                                   LEAD COOK
                         We didn't know there would be so
                         many guests.  Had we but known they
                         were coming we could have sent to a
                         neighboring hold-

                                   FAX
                         This is Ruath Hold!  We do not send
                         to other holds for their help.  The
                         day this hold can not support a few
                         guests, I shall renounce it!

               Silence falls over the hall.  Lessa, standing in a dark
               corner, smiles with triumph.

               The doors open and LYTOL, a small man hunched with a sorrow
               that he will never be able to shake, enters.  He wears richly
               embroidered clothes in brown tones.  F'nor notices him
               immediately, going stiff.

                                   F'LAR
                         What is it?

                                   F'NOR
                         It's L'tol!  He was a dragonman...

                                   F'LAR
                         Was?

                                   F'NOR
                         There was an accident, years ago,
                         his brown was killed in the games. 

               They stare at the man with deep sympathy for a moment.

                                   F'LAR
                         To be dragonless.

               Suddenly, F'lar stands at attention.  F'nor and the rest of
               the dragonmen follow suit. People stare, as does Lytol.

                                   F'LAR
                         L'tol, we would be honored if you
                         sat with us.

               One of the dragonmen grabs an empty chair and places it
               between F'lar and F'nor.  Lytol smiles and approaches.

                                   LYTOL
                         It's Lytol now.  I'm just a weaver.

                                   F'LAR
                         Among us you will always be a brown
                         rider and honored companion.

               Lytol's eyes mist briefly and he sits.  Across the Hall, Fax
               throws a plate of food at the Lead Cook.

                                   FAX
                         You call this food?

                                   LEAD COOK
                         My Lord, it's all we had.

                                   FAX
                         Enough excuses!  Bring out the
                         meat.

               The Lead Cook gestures and the kitchen drudges bring out a
               horrifically burned carcass and place it before Fax.  Lessa
               moves secretively behind F'lar.

               Fax throws the plate to the floor.

                                   FAX
                         Slop!  This is slop!

               Lessa, unseen,

               STARES INTENTLY AT F'LAR.

                                   F'LAR
                             (mechanically)
                         Obviously, Ruath Hold can not
                         support a few guests!  You must
                         renounce it.

               The room falls into a hushed silence, all eyes on F'lar.  Fax
               stands, his hand on the hilt of the knife at his side.  F'lar
               turns to stare at Lessa in her hiding place.  Fax laughs.

                                   FAX
                         Aye, I'll renounce Ruatha!  (he
                         gestures at Lady Gemma)  If it is
                         male and born alive, he can have
                         it!

               He laughs again.  Gemma turns her face away in shame.  F'lar
               jumps to his feet.

                                   F'LAR
                         Heard and witnessed!

                                   F'NOR
                             (also standing)
                         Heard and witnessed!

               As one, the remaining dragonmen rise and follow suit.  Fax
               ignores them, going back to his meal.  Lessa turns and

               STARES INTENTLY AT LADY GEMMA.

               Gemma goes pale and stiffens.

                                   FAX
                             (not looking up from his
                              food)
                         More false pangs?

                                   LADY GEMMA
                         Yes, my lord.  It isn't unusual...
                         at my age.  May I have leave to
                         retire?

               Fax gestures dismissively, still not looking up.  Lady Gemma
               stands and exits, gingerly.  F'lar jumps out of his chair and
               grabs Lessa, shaking her roughly.

                                   F'LAR
                         What have you done?

               LESSA'S DISGUISE EVAPORATES.

                                   LESSA
                         I-

                                   F'LAR
                         Get a birthing woman!  Quick!

               Lessa pulls away and runs out.  The diners watch her go in
               silence and then, following Fax's lead, go back to their food
               as if nothing had happened.



               INT. THE WOMEN'S QUARTERS - NIGHT

               LADY GEMMA lies in a bed in the middle of the women's
               quarters in hard labor.  She is pale and covered with a sheen
               of sweat, breathing in ragged gasps and biting her lips
               against the urge to scream.  The SIX WOMEN from before are
               now clustered at one side of the bed, blotting her forehead
               with cloths and talking in shrill tones.

               The BIRTHING WOMAN, tall and confident, and LESSA, IN
               DISGUISE burst into the room.  The Birthing Woman places a
               hand on Lady Gemma's stomach and another under the bedsheets
               that wrap her.

                                   BIRTHING WOMAN
                             (under her breath)
                         Oh dear.

               She turns to the knot of women wailing beside the bed.

                                   BIRTHING WOMAN
                         You there, stop your sniveling. 
                         Bring me hot water.  Hand me those
                         cloths.  Find something warm for
                         the babe to wear when it is born.
                         (mutters to herself) If it is born.

               The women, reassured by the Birthing Woman's tyranny, rush
               off to do her bidding.  She feels under the sheets again and
               Lady Gemma screams and inadvertently grabs Lessa's hand.

                                   BIRTHING WOMAN
                         She bleeds too much.  More cloths!

               Lessa looks down at the glazed eyes of her tormentor's wife
               and 

               SQUEEZES GEMMA HAND IN HATRED, HER KNUCKLES WHITENING.

               Lady Gemma gasps and looks up at the unexpected pain and
               locks eyes with Lessa.

                                   LADY GEMMA
                         What have I done to you?

                                   LESSA
                             (bending low so no one but
                              Gemma will hear)
                         Your husband killed my whole
                         family.

                                   LADY GEMMA
                         Mine too.

               Lessa's hands relax their painful grip.  They're sisters now.

                                   LESSA
                         It will be over soon.  The
                         dragonman will kill him.

                                   LADY GEMMA
                         You mustn't!  Fax has killed
                         dragonmen before!  There are so few
                         left.  And Pern needs them all. 
                         The Star...  The Red-

               A powerful contraction rips through Lady Gemma, causing her
               to scream.  She sits up suddenly, a faint smile on her lips,
               and then she collapses back onto the bed, dead.  The Birthing
               Woman closes Gemma's eyes.



               INT. GREAT HALL - NIGHT

               The feast continues in ignorance of Lady Gemma's death.  It
               is, however, a subdued affair.  LYTOL, seated between F'LAR
               and F'NOR talks in hushed tones to them.

                                   F'NOR
                         But where have all the women gone?

                                   LYTOL
                         Many fled.  Fax has had the rest
                         beaten into submission or killed. 

               F'lar and F'nor react with surprise.

                                   LYTOL
                             (s.v. to F'lar)
                         And I believe he means to kill you! 
                         Be careful.  He's killed a dozen
                         men in duels.

               LESSA, IN DISGUISE, bursts into the room, panting.  All eyes
               turn to her.

                                   LESSA
                         The child lives!  It is male!

               FAX rises suddenly, kicking aside his chair.  Lessa seems
               unaware of how close and how angry Fax is.

                                   FAX
                         What are you saying, woman?

                                   LESSA
                         Ruatha has a new lord.

               Fax knocks her off her feet with a furious backhand.  Lessa
               collapses to the floor, unconscious.

                                   FAX
                         Liar!  I am lord here.

               He moves to kick at her prone form but a hand clasps his
               shoulder, stopping him.

                                   F'LAR
                         Hold, Fax!

               Fax turns on him, his hand on his knife again.

                                   F'LAR
                         Stand by your oath, Fax.  It was
                         heard and witnessed by dragonmen.  

                                   FAX
                         Dragonmen?  Dragon women, you mean!

                                   F'LAR
                         What did you say?

               F'lar puts his hand to his knife.  They stare at each other
               for a beat, each waiting to see if the other will back down.

                                   FAX
                         Women!  Parasites on Pern.  Your
                         day is over.  Over for good!

               Fax draws his knife and leaps into a defensive crouch.  F'lar
               draws his as well.

               The CROWD OF FEASTERS stands and some pull the tables and
               chairs back to give the duelers room to fight.  Fax and F'lar
               circle each other.  F'lar

               GLANCES AT LESSA'S UNCONSCIOUS FORM FOR A SECOND.

               She is just waking up.  Fax sees his opponent is distracted
               and charges, but F'lar evades the blow just in time.

               They circle each other, feinting with knives.

               Fax, with a deft move, kicks a chair into F'lar's face,
               driving him back into the door of the kitchen.

               Lessa wakes up, and runs out.



               INT. KITCHEN - NIGHT

               F'LAR flies backward into the room, barely keeping his
               balance and pursued by FAX.  SEVERAL COOKS and KITCHEN
               DRUDGES scream and get out of the way as the two men fight.

               Fax lunges and slashes F'lar across the shoulder, cutting him
               deeply.  F'lar leaps back in pain, but manages to upend a
               giant pot of boiling water onto Fax's legs.



               EXT. COURTYARD - NIGHT

               LESSA passes the whining WATCH-WHER to run into her hidden
               home behind the barrels.



               INT. LESSA'S HOLE - NIGHT

               LESSA searches through her blankets until she

               FINDS A KNIFE.

               It is the same knife she took from the guard ten years
               earlier.  She smiles grimly and crawls out.



               EXT. COURTYARD - NIGHT

               As LESSA exits her hiding place, FAX and F'LAR crash into the
               courtyard from the kitchen, followed by the GUESTS from the
               feast and F'NOR.  Lessa watches from the side of the WATCH
               WHER, lit only by the flickering glow of the torches.

               The two men circle, F'lar's arm obviously numb from the cut
               and Fax walking gingerly from the burns to his legs.

               They circle again and F'lar stabs at Fax.  Fax dodges and
               kicks F'lar, knocking him to the floor and making his knife
               skitter away over the ground.

               Lessa screams and charges at Fax, her knife raised over her
               head like a deranged killer from a bad horror movie.  Fax,
               backhands her in the face without even looking.  Lessa falls
               to the ground, out cold again.

               The watch-wher roars, straining against the

               IRON PIN HOLDING HIS CHAIN TO THE WALL.

               Fax stands over the prone dragonman, preparing to deliver the
               death blow.

                                   FAX
                         Your kind has no more hold on this
                         world.  You are useless.  Finished.

               As he raises his weapon, the watch-wher strains again and

               THE IRON PIN BREAKS FREE.

               The jaws of the animal bite deep into Fax's leg.  He screams
               with rage and plants his knife into the neck of the watch
               wher.

               F'lar, seeing his chance, grabs Lessa's knife from the ground
               and stabs Fax in the chest with it.  Fax looks down at the
               hilt of the blade protruding from his chest.  He reaches
               down, pulls it out, and collapses, dead.

               Lessa stirs.  F'lar kicks the knife away from Fax's hand and
               looks at Lessa, who is gently stroking the head of the dead
               watch-wher.

                                   LESSA
                         It was the only one I could trust. 
                         My only friend.

               A dragon keens, eerily, in the distance.

                                   F'LAR
                         In truth, a loyal friend.

               Lessa is ignoring him, and staring down at the corpse of Fax.

                                   LESSA
                         Ruatha is mine.

                                   F'LAR
                         Yours?

                                   LESSA
                         I am Lessa.  I am the rightful
                         heir!

                                   F'LAR
                         Of what?  This crumbling heap?  Why
                         take only that when you could be
                         Weyrwoman?

                                   LESSA
                         Weyrwoman?

                                   F'LAR
                         Yes.  The Search is over.

               The door to the hold opens and the BIRTHING WOMAN comes out,
               holding JAXOM, a baby boy in her arms.  LYTOL is accompanying
               her as is an older man in blue named ROBINTON.

                                   LYTOL
                         A birth!  A birth in the hold.

               People crowd around, torn from the spectacle in front of them
               to a new spectacle.  People mutter unheard questions.

                                   BIRTHING WOMAN
                         I didn't think he would survive his
                         mother's death, but he's a strong
                         one.  A new lord of Ruatha.

                                   LYTOL
                         His name is Jaxom.

               F'lar and Lessa watch this from afar.

                                   LESSA
                         But...  But I was lying!  Gemma
                         died before the child was born.

                                   F'LAR
                         He is now the rightful lord of
                         Ruath Hold.

                                   LESSA
                         The son of Fax!  Never.

                                   F'LAR
                         The son of Gemma.  Lessa, you have
                         your revenge.  Let it end here. 
                         Let Jaxom have Ruatha.  All of Pern
                         needs you now.

               Lessa nods her head and F'lar smiles, looking up at MNEMENTH,
               who lands beside them with a crashing thump.  Around them,
               F'NOR and the OTHER DRAGONMEN are mounting their dragons. 
               Lessa backs up in fear.

                                   F'LAR
                         You have nothing to fear from
                         Mnementh, girl.  He...

               F'lar's voice trails off as Mnementh lowers his neck and
               Lessa fearlessly climbs on.  F'lar shakes his head and
               mounts.  In one practiced motion, all the dragons launch into
               the sky, the crowd below staring up in stunned silence.



               EXT. THE EVENING SKY - NIGHT

               High above Ruath Hold, the walls and lights seem like tiny
               red pinpricks on a dark curtain.  The stars shine
               spectacularly above as do the two moons.

               F'LAR and LESSA sit astride Mnementh, whose wings beat
               powerfully on either side.  Behind them, in a wedge formation
               only barely visible in the starlight, are the rest of the
               DRAGONS and DRAGONRIDERS.

                                   F'LAR
                         We're about to go between, Lessa. 
                         Do not be afraid.

                                   LESSA
                         Between?  Between what?

                                   F'LAR
                         Everything.

               They vanish.



               EXT. BETWEEN

               LESSA is in all-encompassing darkness and silence lit only by
               the blue light of MNEMENTH'S eyes.  She stares around her. 
               Her heartbeat is thunderously loud:  

               LUB-DUB.

               Lessa feels below her and the rest of Mnementh is suddenly
               visible, his wings beating against nothingness as he strains
               towards infinity.  Her heart beats again:

               LUB-DUB.

               The moisture on her skin begins to freeze in the extreme
               cold; tendrils of ice creeping over her hands and face.  She
               reaches out and touches F'LAR, who becomes visible right in
               front of her.  Her heart beats again.

               LUB-DUB.



               EXT. ABOVE BENDEN WEYR - MORNING

               The rising sun is just visible above Finger Rock, a long,
               straight piece of hewn stone.  On another ridge is the Eye
               Stone, hewn of similar rock but in the shape of a hollow
               circle.  Off to the right, the dim form of the Red Star is
               visible.

               The wing of TWELVE DRAGONS fade into existence behind the
               stones, Mnementh in front, F'LAR and LESSA are clutching his
               neck.  The ice thaws and falls off their faces.

                                   F'LAR
                         Welcome to Benden Weyr!

               F'lar gestures to the double mouths of two adjoining extinct
               volcanoes, a thousand feet below them.  Lessa gasps in awe
               and is about to speak but suddenly the wing of dragons

               DIVES IN FORMATION INTO THE VOLCANO.



               INT. BENDEN WEYR - MORNING

               The inside of the volcano has been built into a city, the
               walls lined with ledges, cave mouths, and adobe structures. 
               Dozens of DRAGONS of various colors flit from ledge to ledge,
               carrying people and supplies in and out of the weyr.

               As the dragon wing enters the volcano, they trumpet in
               unison.  Their cry is echoed back at them by the other
               dragons who stop for a moment in their work to call back.

               The wing breaks formation, the other dragons peeling off in
               graceful spirals as they head in different directions. 
               Mnementh lands on a ledge near a large cave mouth and lowers
               LESSA and F'LAR gently to the ground.

                                   MNEMENTH
                             (telepathy)
                         She wasn't afraid.  I approve.

               F'lar nods and smiles.  He takes Lessa by the hand and guides
               her into the cave mouth.

                                   F'LAR
                         This leads to my quarters.



               INT. F'LAR'S QUARTERS - DAY

               F'lar's room is a large natural cavern with a high ceiling. 
               Light comes from a small hole in the wall that is open to the
               outside.  It is obviously the home of a bachelor, dirty and
               shabby, but comfortably so.

               There are a few, sparse furnishings: some chairs, a table, a
               chest, a standing mirror, and a bed.  Curtains cover the
               shelves.  A small opening leads to a room where a gentle
               waterfall feeds a tiny pool.

               F'LAR leads LESSA inside.  MNEMENTH'S giant head peeks in
               through the doorway.  Lessa stares at the big room in awe as
               F'lar rummages through the chest, finally pulling out a bag
               of pink sand and a white wool robe with ceremonial markings
               on the sleeves.

               F'lar turns to her, holding out the bag.  Lessa stares at him
               nervously, noticing his proximity to the bed.  He steps away
               from it.

                                   F'LAR
                         Sweetsand for your bath.  I must go
                         and feed Mnemneth now.

               He turns and leaves.  Lessa watches him go, nervously moving
               the bag from one hand to another.  She watches as he enters
               the main cavern and KYLARA, a beautiful young blonde woman,
               appears and embraces him, kissing him warmly.  F'lar
               disentangles himself gently.

               Lessa turns away from this scene.



               INT. BATHING ROOM - DAY

               LESSA enters the small room adjacent to F'lar's quarters. 
               The floor of the room has a deep pool in the center filled by
               a gentle, natural waterfall.  Lessa sheds her filthy rags
               with distaste and kneels at the edge of the water.  BEGIN
               BATHING MONTAGE.

               Lessa wets a handful of the pink sweetsand and scours her
               face with it.

               Lessa bursts out from under the surface of the water.

               Lessa scours her arms with more sweetsand.

               Lessa rubs her hair with the sand and ducks under the water
               again.

               Lessa scours her legs, slower this time, and finally relaxes
               in the pink, foamy water.

               END BATHING MONTAGE



               INT. F'LAR'S QUARTERS - DAY

               LESSA re-enters F'lar's room.  She goes to the window and
               looks out.



               EXT. VALLEY - DAY

               A herd of cattle stampede, terrified, across the plain in the
               shadow of Benden Weyr.  Several dragons circle above them.  A
               brown dragon dives and rises again, carrying a bellowing cow. 
               The dragon lands on a ledge and begins eviscerating the
               animal.



               INT. F'LAR'S QUARTERS - DAY

               As LESSA turns from the window, she realizes someone is
               watching her and jumps in fright.  It's her reflection in the
               mirror.

               She looks at the face she hasn't seen in ten years.  Lessa,
               when clean, is strikingly beautiful and has waves of waist
               length hair.  She smiles and then fussily tries to pull spare
               strands of hair away from her face.  Then she turns in
               profile pulls at the shapeless robes, tightening them against
               her slender waist.

               F'LAR enters unseen and watches her admiring herself for a
               beat.

                                   F'LAR
                         You wash up... pretty.  And with
                         such hair!  Yes, almost pretty. 
                         Certainly pretty enough for F'nor.  

                                   LESSA
                             (indignant)
                         And I am here for F'nor?

               F'lar gives her an irritatingly smug grin and walks over to a
               tapestry hanging over a wall.  He lifts it, revealing a
               crack.

                                   F'LAR
                             (yelling into the crack)
                         Food for two!

               He drops the tapestry and goes to a cupboard, also covered by
               a curtain, and takes out a few small items.

                                   F'LAR
                         The hatching will begin soon.  In
                         the meantime, I am in need of your
                         services.

               F'lar hands the items to Lessa, who stares at him in numb
               apprehension.  He takes off his bloodstained shirt and Lessa
               stares at his well-muscled back.  Fresh blood seeps from the
               wound on F'lar's shoulder.

                                   F'LAR
                         What?  Frightened?

               Lessa looks down and her hands contain

               BANDAGES AND A BOTTLE.

               She relaxes visibly and begins to apply a pale yellow salve
               to his wound.  As she is wrapping the bandage around his arm,
               a metal tray appears from below on a metal arm and rumbles
               loudly to a stop.

                                   F'LAR
                             (to Lessa)
                         Thank you.

               F'lar picks up the tray of food and puts it down on the
               table.  Lessa sits before what is to her a banquet as F'lar
               puts on a clean shirt.  He sits down opposite to her.

                                   F'LAR
                         In the Weyr, the lady breaks bread
                         first.

               Hesitantly, Lessa reaches out and takes the loaf.  She breaks
               it, offering half to F'lar.  When he accepts it, she shoves
               her half into her mouth with an abandon that startles him.

               She wolfs down most of the food in front of her, gorging on
               cheese and fruit, guzzling the wine in giant gulps.  F'lar,
               impotently holding the piece of bread in his hand, tries hard
               to stifle a laugh, but Lessa is instantly aware and flushes,
               dropping a half-eaten piece of cheese.

                                   LESSA
                         This is more food then I am used to
                         having in a day.

               F'lar picks the cheese up and places it tenderly back in her
               hand.  Lessa eats again, more daintily this time.

                                   F'LAR
                         Now listen to me.  You must not
                         show a moment's fear at whatever
                         happens on the Hatching Ground. 
                         And you must not let her overeat. 
                         One of our main functions is to
                         keep a dragon from excessive
                         eating.

                                   LESSA
                         Our main function?  What do you
                         mean?

                                   F'LAR
                         I am not allowed to say more.  As I
                         was told, so I tell you.  So it has
                         been done for 400 years.

               There is a loud keening sound from outside the room.  The
               dragons are all making an unearthly hum.  Lessa turns,
               afraid, to F'lar who is listening to the sound with a trained
               ear.

                                   F'LAR
                         It's time!  Come quickly.  Now!

               He grabs her by the wrist and hurries her out of the room.



               INT. BENDEN WEYR - DAY

               F'LAR practically drags LESSA down the core of the volcano,
               over staircases without railings that look over vertiginous
               drops.

                                   F'LAR
                         Remember what I told you!

                                   LESSA
                         Don't show fear.  Don't let her
                         eat.

                                   F'LAR
                         Don't let her over eat.

               They reach the bottom and squeeze through a giant crack in
               the wall.



               INT. HATCHING GROUND - DAY

               The hatching ground is directly below the maw of the volcano;
               it is heated by the geothermal forces that seep from the
               sandy ground itself, making everyone sweat.   Against the far
               wall lies the barely visible grey hulk of a dead queen
               dragon, giant and unmoving.  In front of her body lies a pile
               of ten large eggs and another golden one off to the side on a
               raised area of the ground.

               Standing in a semicircle around the mottled eggs is a group
               of TWENTY YOUNG BOYS and another TWELVE GIRLS are standing
               near the golden egg.  All of them are wearing the ceremonial
               robes that LESSA wears.  KYLARA is among the group of girls.

               Watching the scene from stone bleachers is a large crowd of
               ALL SIXTY DRAGON MEN and dozens of other MEN AND WOMEN who
               live in the Weyr. 
               Above them all, scores of dragons perch on ledges, transfixed
               by the event.  They continue to keen, softly; their eyes glow
               blue and green with the occasional flash of yellow.

               F'LAR leads Lessa through the crowd to the group of young
               women.  Lessa balks as they near the eggs and backs away, her
               eyes wide.

                                   LESSA
                         F'lar, I can't!  I-

               F'lar gives her a rough shake, startling her out of her fear.

                                   F'LAR
                         Lessa, listen to me.  You can do
                         this.

               Lessa nods and steps up to where the group of girls are.  She
               notices how close she is to Kylara and moves away so that she
               stands apart from the group.

               The golden egg moves and one of the girls screams.

               F'lar finds a place to watch the event near R'GUL and S'LEL. 
               R'gul is a powerfully built bronze rider in his mid forties
               who winces with distaste as he notices F'lar next to him. 
               S'lel, also a bronze rider, is in his fifties and watches the
               hatching with detached interest.

                                   F'LAR
                             (nodding to the men)
                         Weyrleader.  S'lel.

               They nod back at him.

                                   F'LAR
                         A profitable Search.  I've never
                         seen so many youth at a hatching.

               One of the mottled eggs cracks open and a hatchling crawls
               out, wailing.  It is the size of a large dog, wrinkled and
               covered in wet eggskin; its eyes glow yellow.  It stretches
               its tiny wings and then begins crawling inexorably towards
               the group of boys, still screaming at them.

               It reaches the boys as another egg hatches.  They back away
               slightly, but the dragon hatchling is too fast.  It grabs the
               nearest boy and, examining him for a second, throws him to
               the ground.  It crawls over the boy, scratching him with its
               sharp claws.

               The dragonmen continue to watch impassively.

                                   S'LEL
                         You only brought back one?

                                   F'LAR
                         Yes, a girl.  Lessa of Ruatha.

                                   R'GUL
                         Skinny little thing.

                                   F'LAR
                         She'll surprise you.

               The hatchling moves on through the crowd of boys, snapping at
               them and knocking them aside as if they were weightless. 
               Finally, it finds what it is looking for.  It fixes its
               multifaceted eyes on a boy's and they stare at each other,
               frozen.

                                   YOUNG BOY
                         Hello.

               He reaches out and strokes the hatchling's head, caressing it
               lovingly.

               The second hatchling reaches the injured boy and nuzzles him,
               crooning anxiously.

                                   INJURED BOY
                         It's alright.  I'm okay.  They're
                         just scratches. 

               The golden egg hatches suddenly and several of the girls
               scream.  Lessa steps further away from the group, a look of
               contempt on her face.  The hum of the watching dragons grows
               louder and more urgent.

               A golden hatchling, much larger than the others, crawls out
               of the eggshell and stretches its wings.  Suddenly, it dashes
               for the knot of girls, scattering them like tenpins.  It
               moves quickly between them, grabbing them one by one in its
               beak and knocking each to the ground.  Some of the fallen
               girls don't get up.

               Lessa charges into the chaos, dodging fleeing and injured
               girls.  She reaches the dragon baby and grabs its head,
               forcing it to look up into her eyes.  The dragon's eyes turn
               from yellow-red to a deep blue.  They stare at each other,
               transfixed with joy for a beat.

                                   LESSA
                         Ramoth.

                                   RAMOTH
                             (telepathy)
                         Lessa.

               Lessa strokes the dragon's head, scratching behind the eye
               ridge. 

               The assembled crowd cheers.  From high above, the dragons
               grow silent, watching the paired dragons and humans bonded
               together for life.



               EXT. ABOVE BENDEN WEYR - MORNING

               The Red Star glows in the early morning light.  PAN BACK
               slowly throughout voice over.

                                   F'LAR
                             (V.O. - reciting)
                         Seas boil and mountains move, Sands
                         heat, dragons prove Red Star
                         passes. 
                         Stones pile and fires burn, Green
                         withers, arm Pern. Guard all
                         passes. 
                         Star Stone watch, scan sky.
                         Ready the Weyrs, all riders fly;
                         Red Star passes.

               The star is framed (just off center) by a circle-shaped
               stone.  The stone is next to a long-pointed rock shaped a
               little like a finger.  The sun is visible just at the top of
               the stone.

               F'LAR, F'NOR, and R'GUL stand at the top of the Weyr in the
               growing light as F'lar finishes reciting.  They're all
               looking through the eye stone.  Words appear:

               TWO TURNS UNTIL THREADFALL

               R'gul turns away.

                                   R'GUL
                         It proves nothing.  There hasn't
                         been Threadfall anywhere on Pern
                         for 400 years.  Let the Red Star
                         come.  For all we know, the Thread
                         are extinct.

                                   F'NOR
                         How can you be so blind?

                                   F'LAR
                         F'nor, you will accord the
                         Weyrleader the appropriate respect.

               F'nor stands at attention.

                                   R'GUL
                         Facts are facts.  The Thread are
                         gone.  Now I'm late to my duties
                         instructing our new Weyrwoman. 
                         Unlike this meeting, it is a useful
                         task.

               He mounts his DRAGON and they dive into the Weyr.  F'lar and
               F'nor watch him go.

                                   F'NOR
                         He's a fool.

                                   F'LAR
                         He's our Weyrleader.

                                   F'NOR
                         He believes we are nothing but
                         parasites!  He does nothing but
                         take the easy path.

                                   F'LAR
                         He's teaching Lessa.  I doubt his
                         path is easy.



               INT. RECORDS ROOM - DAY

               While the walls are covered with shelves, many of them are
               empty and the scrolls that remain are old and dusty. 

               R'GUL DUCKS

               Just as a wax tablet flies at him and shatters against the
               shelves behind him.  LESSA, standing by a table covered with
               scrolls, styli, cups, and other wax tablets, grabs a cup in
               anger.

                                   LESSA
                         I memorize the names, locations and
                         functions of the six weyrs.

               She throws the cup at R'gul who dodges again as it shatters. 
               She grabs a scroll.

                                   LESSA
                         And then you tell me they're all
                         empty!  I train to ride Ramoth.

               She throws the scroll at R'gul.

                                   LESSA
                         And then you tell me she can't fly!

                                   R'GUL
                         Queens only fly to mate and to
                         feed!

               Lessa grabs a stylus.

                                   LESSA
                         Then why does she have wings?

               R'gul jumps forward and grabs her wrist to stop her before
               she can throw it at him.

                                   R'GUL
                         That is how things have been for
                         400 years.  I didn't make the
                         rules, but it is my duty as
                         Weyrleader to enforce them.  As
                         Weyrwoman, it is your duty to learn
                         them.

               She sits as he places another wax tablet in front of her.

                                   R'GUL
                         The Ballad of Moretta's Ride.

                                   LESSA
                         I've done it nine times.

                                   R'GUL
                         Ten is a nice, round number.

               Lessa doesn't move.

                                   R'GUL
                         Every Weyrwoman has copied the
                         teaching ballads ten times each for
                         hundreds of years.  Are you
                         planning on ignoring all traditions
                         that aren't to your liking?

               Lessa sighs and begins to write on the tablet with the
               stylus. R'gul hovers over her.

                                   R'GUL
                         Thank you, Weyrwoman.

                                   LESSA
                             (not looking up from her
                              work)
                         I'm Weyrwoman because I'm bonded to
                         the queen.  What makes you
                         Weyrleader?

                                   R'GUL
                         I'm Weyrleader because my bronze
                         dragon Hath flew the last queen.

                                   LESSA
                         "Flew" her?

               He leans in closer.

                                   R'GUL
                         The queen chose him as her mate. 
                         And when dragons mate, so do their
                         riders.

               Lessa tries to hide her disgust.

                                   LESSA
                         You mean that we have to-

               KYLARA enters and sees R'gul crouching over Lessa.

                                   KYLARA
                         Excuse me, R'gul.  There are
                         pressing matters of the Weyr that
                         must be attended to.

                                   R'GUL
                         They can wait, Kylara!

                                   KYLARA
                         And the queen is waking.  Lessa
                         will need to feed her.

               R'gul stands and gestures impatiently.  Lessa hurries out,
               followed by Kylara.



               INT. BENDEN WEYR - DAY

               LESSA and KYLARA climb down the winding steps toward the
               bottom of the Weyr.

                                   LESSA
                         Why did you lie to R'Gul?

                                   KYLARA
                         Lie?

                                   LESSA
                         Ramoth is still sleeping.  We're
                         bonded.  I'd know if she'd woken.

                                   KYLARA
                         Well, there were important duties
                         of the Weyr to attend to.

                                   LESSA
                         And?

                                   KYLARA
                         You looked like you needed help.

               They enter the giant chamber at the bottom of the Weyr.



               INT. HATCHING GROUND - DAY

               RAMOTH, now huge and golden, lies sleeping at the bottom of
               the volcano.  More cracks are spewing steam then during the
               hatching.  LESSA and KYLARA enter and they pick their way
               gingerly over the ground, the rocks searing them through
               their sandals.

                                   KYLARA
                         The ground is so hot these days.

                                   LESSA
                         It's the passing of the Red Star. 
                         The ancient ballads say it brings
                         earthquakes and liquid fire that
                         bleeds from the rocks.

               They reach Ramoth, who continues to sleep.  Lessa gently
               strokes her head.

                                   KYLARA
                         There are pressing matters of the
                         Weyr to attend to.  As Weyrwoman it
                         is your duty to-

                                   LESSA
                         I know my duty.

               Lessa slumps, annoyed, against the side of Ramoth.  Kylara
               removes a scroll from her robes and hands it to Lessa, who
               unrolls it.  It is a tally sheet.

                                   KYLARA
                         The salted fish from Tillek is
                         almost gone.  There is almost no
                         grain remaining in the dry caves.

               Lessa looks up from the scroll in shock.

                                   KYLARA
                         We won't have enough food to
                         survive the winter.

                                   LESSA
                         We've survived before.

                                   KYLARA
                         Half the holds have withheld their
                         tithes of food.

                                   LESSA
                         Can't we pressure them to-

                                   KYLARA
                         R'gul forbids it.

                                   LESSA
                         Could we have the dragons hunt for-

               Kylara shakes her head.

                                   LESSA
                             (imitating R'gul)
                         "So it has been done for 400
                         years."

               Kylara nods sadly as Lessa throws the scroll down in
               frustration, waking Ramoth.

                                   RAMOTH
                             (telepathy)
                         You'll think of something.  You
                         always do.

               Lessa is instantly soothed and begins scratching Ramoth,
               whose eyes glow dark blue.

                                   LESSA
                         Ramoth is hungry.  Bring food.

               Kylara nods and turns to leave, then stops.

                                   KYLARA
                             (her back still turned)
                         F'nor is attracted to you.

               Lessa stiffens and Ramoth turns her multifaceted eyes towards
               Kylara. Kylara faces Lessa again.

                                   KYLARA
                         It isn't just because you are
                         Weyrwoman.  His feelings are deeper
                         than that.  And he is popular,
                         brave, cunning-

                                   LESSA
                         And that would leave F'lar free to
                         be with you.

               Kylara lowers her eyes.  An awkward silence fills the air for
               a beat.

                                   LESSA
                         We need meat most of all?

                                   KYLARA
                             (nodding)
                         Grains, too, and some root
                         vegetables would be welcome.

               Kylara turns to leave.

                                   LESSA
                         If you see F'nor, can you tell him
                         I would like to see him?

               Kylara smiles slightly and leaves.  F'nor, who was obviously
               waiting outside, enters and Lessa stands, a seductive smile
               on her face.  He stands at attention as befits her station.

                                   F'NOR
                         Kylara said you wished to see me.

                                   LESSA
                         Yes.  The holds are not sending
                         supplies we need and our stores are
                         dwindling.  I need a brave and
                         cunning dragonman.

                                   F'NOR
                         Why?

               Lessa steps closer.

                                   LESSA
                         Someone has to raid the holds.

               F'nor's smile broadens with excitement.



               EXT. TELGAR MARKETPLACE - EARLY MORNING

               A large muddy field surrounded by small homes and businesses
               is slowly filling up with carts filled with food for the
               day's trading.  A large Hold sits on the rocky hill above,
               sentries watching from the towers with unusual alertness.

               Two COWHERDS urge a small group of cattle forward into pens. 
               Others move their covered carts into spaces marked with
               colored sticks.

               Words appear below this image:

               TELGAR HOLD:

               ONE TURN UNTIL THREADFALL

               Two men begin haggling over a covered cart filled with casks
               of wine.  Suddenly,

               F'NOR AND HIS BROWN DRAGON (CANTH) APPEAR HIGH ABOVE

               They dive out of the sky, the frost melting off F'nor's face
               in a trail of white fragments.  The alarm klaxon, similar to
               the one at Ruath Hold, sounds.

                                   SEVERAL
                         Dragon!  Look out, it's a raid! 
                         (etc.)

               The people scream and run for cover.  The cows turn and
               bellow but they are penned in and can't escape.

                                   COWHERD
                         Not again.

               The dragon pulls out of the dive scant feet above the ground
               and snatches two cows in its front claws.  Wheeling, it flies
               just over the screaming crowd, the cows still bellowing as
               they dangle inches over the people's heads.

                                   F'NOR
                             (to Canth)
                         Over there!  Grain and fresh fruit.

               The brown dragon turns in the direction he indicates and
               grabs two carts, one in each rear foot, lifting them into the
               air like giant picnic baskets.

               Slowly, they begin to rise, but F'nor notices the cart filled
               with wine the two men had been haggling over.

                                   F'NOR
                         Oooh!  Wine would be nice.

               The dragon lowers its head as they fly by and catches the
               cart, the cover dangling over his neck like a pendulous
               necklace.  They rise laboriously into the air, and fade into
               Between.

               A band of soldiers from the castle charges into the square
               led by LARAD, the Lord of Telgar, a confident man in his
               early fifties riding a horse.  They stop suddenly, realizing
               they've just missed the raid.  The people turn and stare at
               their would-be saviors with contempt.

                                   COWHERD
                             (muttering just audibly)
                         Too late, again.

               Larad hears him and, furious, throws his riding gloves at the
               man, hitting him on the shoulder.  He turns to one of his
               soldiers.

                                   LARAD
                         Captain, ready your men.  We're off
                         to Benden Weyr.  And send word to
                         the other Holds!  It's time we
                         repaid these insults.



               INT. RECORDS ROOM - DAY

               R'GUL sits at a table, reading an old scroll.  F'LAR enters
               and stands at attention before the older man.

                                   R'GUL
                         Ah, F'lar.  Good.  Sit.  I've just
                         been studying the traditions.

               F'lar sits down across from R'gul.  R'gul turns the scroll
               around so F'lar can read it.

                                   F'LAR
                             (reading)
                         Dragonman avoid excess.  Greed will
                         cause the Weyr Distress.

                                   R'GUL
                         The old ways have wisdom.

                                   F'LAR
                         Sometimes there is wisdom in new
                         ways, too.

               R'gul hides his distaste at that remark.

                                   R'GUL
                         I wonder if you have noticed the
                         levels of our stores as of late.

                                   F'LAR
                         No, that is Lessa's duty.

               R'gul nods, grimly.

                                   R'GUL
                         Yes, indeed.  Well, I have noticed
                         them.  I had to check to see what
                         was needed if we had to barter for-

                                   F'LAR
                         Barter?!

                                   R'GUL
                         As you said, there is wisdom in new
                         ways.

                                   F'LAR
                         We protect all of Pern from the
                         thread!  It is the duty of the
                         Holds to supply us.  Pern prospered
                         this year.  Let some of it spill
                         over into the Weyr as it ought.

               R'gul ignores the outburst.

                                   R'GUL
                         The stores haven't dwindled.  In
                         fact, they have grown.

                                   F'LAR
                         Someone is raiding the Holds.

                                   R'GUL
                         Tell me, Wingleader, have you
                         noticed F'nor's strange absences
                         these last few months?  Do you know
                         where he is at this moment?

               F'lar shakes his head.

                                   R'GUL
                         Do you have any idea what the Lord
                         Holders will do if they catch a
                         dragonman stealing from them?

               F'lar jumps to his feet.

                                   F'LAR
                         I will find F'nor and bring him
                         back immediately.

               S'LEL appears at the doorway.

                                   R'GUL
                         I have no doubt you will.

               F'lar nods and hurries from the room.  He barely notices
               S'lel as he exits.

                                   R'GUL
                         S'lel, go and tell the other
                         wingleaders to feed their dragons
                         but only to blood their kills.

                                   S'LEL
                         The queen is rising to mate?

                                   R'GUL
                         I would think that you, of all
                         people, would recognize the signs.

                                   S'LEL
                         But you just sent F'lar-

                                   R'GUL
                         Both F'lar and F'nor are away from
                         the Weyr.

                                   S'LEL
                         You wouldn't dare!

                                   R'GUL
                         I will not sit by and let F'lar or
                         his brother become Weyrleader! 
                         They have no respect for the
                         traditions we have followed for 400
                         years. And do I have to remind you
                         of the time he fainted?

                                   S'LEL
                         R'gul, his father died.

                                   R'GUL
                         There are many hard moments in the
                         life of a Weyleader.  (a beat)  
                         Would you wish to follow him?

               S'lel sighs and shakes his head.

                                   S'LEL
                         He would lead the Weyr to its
                         destruction.

                                   R'GUL
                         Alert the wingleaders.  The queen
                         will rise soon.



               INT. HATCHING GROUND - DAY

               LESSA is with RAMOTH, who has grown so large that her
               outspread wings scrape the sides of the cavern.  Lessa is
               trying, ineffectually, to calm the dragon who is screaming a
               deafening, terrifying roar.  Her eyes glow purple.  Above,
               the other dragons of the Weyr gather on ledges, trumpeting
               with excitement.

                                   LESSA
                             (to Ramoth)
                         What's wrong?  I don't understand!

               Ramoth jumps to a wall and claws at it, creating a small
               rockslide.  R'GUL enters, followed by S'LEL and FIVE OLDER
               DRAGONMEN.

                                   LESSA
                         R'gul!  Something's wrong with
                         Ramoth.  I can't calm her.  Where
                         is F'lar?  I need him.

                                   R'GUL
                         The queen rises to mate.  When she
                         leaves the cavern, you must control
                         her.

                                   LESSA
                         She's rising to mate?  I don't
                         understand!  I want F'lar.  Where
                         is he?

                                   R'GUL
                         F'lar is gone from the Weyr.  F'nor
                         is gone, too.  The queen rises to
                         mate with whatever dragon can catch
                         her.

               Lessa stares in shock at R'gul.

                                   R'GUL
                         Now listen!  You must control her. 
                         The longer the flight, the better
                         the clutch of eggs she will lay. 
                         Do you understand me?

                                   LESSA
                         Yes, R'gul, I understand.  For once
                         I understand you, all too well. 
                         Now understand me: I will send
                         Ramoth between before I let you
                         have her.

               This wipes the smug look off R'gul's face.

               Ramoth's skin suddenly begins to glow and she leaps into the
               air and flies straight up out of the top of the volcano.  The
               other dragons, their eyes also glowing purple, take to the
               air in a swirl of color that follows her out.  Only the
               EIGHTEEN GREEN DRAGONS (infertile females) stay behind,
               watching with an amused air.

               R'gul grabs Lessa by the upper arm.

                                   R'GUL
                         Come.

               He drags her out.



               INT. VIEWING ROOM - DAY

               The viewing room is a large cavern with one wall that is open
               directly to the outside.  ALL THE WEYR'S DRAGONMEN have
               gathered here, except for S'LEL, R'GUL, and the other FOUR
               WINGLEADERS who enter.

               R'gul is still dragging LESSA along.  She looks around at the
               faces of the men, but can't find F'lar.  Lessa pulls away
               from R'gul, balls her fists, and stares out at the open sky,
               hopelessly.

                                   LESSA
                             (S.V.)
                         Where are you, F'lar?



               EXT. OUTSIDE THE WEYR - DAY

               RAMOTH flies a wide circle around the volcano, FIFTY-THREE
               MALE DRAGONS of various colors in pursuit.  As she makes a
               particularly tight turn at high speed, several blue dragons
               tire and brake off.

               Ramoth screams her defiance.



               INT. VIEWING ROOM - DAY

               R'GUL, S'LEL, and the OTHER DRAGON MEN stand at the ledge,
               watching the chase.  The riders of the blue dragons who have
               given up, turn and exit.

               LESSA is in front, but staring at the sky instead of the
               dragons.  Her fists are balled up and she has a familiar,
               intense look on her face.

                                   LESSA
                         F'lar.  I need you.

                                   F'LAR
                             (O.S., S.V.)
                         I am here, Lessa.



               EXT. OUTSIDE THE WEYR - DAY

               RAMOTH circles the Weyr again, the OTHER FORTY DRAGONS still
               in pursuit.  Above, F'NOR and F'LAR

               APPEAR OUT OF BETWEEN ON THEIR DRAGONS.

               They dive towards the viewing ledge.



               INT. VIEWING ROOM - DAY

               F'LAR and F'NOR leap off their DRAGONS, who barely stop.  The
               two men nearly crash into R'GUL, S'LEL and the OTHER
               DRAGONMEN.

                                   F'LAR
                         Good afternoon, Weyrleader!  I
                         understand the queen has risen to
                         mate.  How kind of you to call us
                         back for the spectacle.

               R'gul stares around at the assembled dragonmen, trying to
               figure out who betrayed him by calling them back.  LESSA is
               beside herself with joy and stands next to F'lar.



               EXT. OUTSIDE THE WEYR - DAY

               MNEMENTH and CANTH join the MASS OF PURSUING DRAGONS. 
               RAMOTH, seeing the two dragons join the chase, turns away
               from the volcano and flies out over the fields.

               The dragons follow, but the remaining blues and some of the
               smaller browns break off, exhausted.  The remaining pack
               consists entirely of bronzes and a few browns.



               INT. VIEWING ROOM - DAY

               Several OTHER DRAGONMEN turn to leave.  These men are more
               disgruntled then the last, but still leave quietly.  R'GUL,
               S'LEL, F'NOR, F'LAR, and a FEW DRAGONMEN still stand at the
               window.

                                   F'LAR
                             (to LESSA)
                         You must control her.  The longer
                         she flies, the stronger her clutch
                         of eggs will be.

                                   LESSA
                         I already know that.  R'gul told
                         me.

               As if to mitigate the harshness of her words, she takes his
               hand.  F'lar smiles to himself.



               EXT. OVER A FOREST - DAY

               The DRAGONS are flying over a large deciduous forest.  RAMOTH
               is slowing now, but so is the rest of the pack.  F'NOR'S
               BROWN, TUENTH, and the remaining brown dragons break off,
               leaving only MNEMENTH, HATH, and ANOTHER BRONZE in pursuit.

               Ramoth looks back at the three pursuing males with interest. 
               They pursue her doggedly, screaming their mating calls.



               INT. VIEWING ROOM - DAY

               The room is nearly empty now.  SEVERAL DRAGONMEN, including
               S'LEL, walk out.  F'NOR touches F'LAR's shoulder and the
               wingleader nods respectfully as his brother leaves.  

               Now there is only LESSA, F'lar, R'GUL, and D'NOL, a young
               bronze rider, in the room.  The three men are sweating with
               concentration as they spur their dragons on.

                                   F'LAR
                             (quietly, to Lessa)
                         Stay with her!  She must not escape
                         your control now.

                                   LESSA
                         Why?

                                   F'LAR
                         Because you must choose for her.

               Lessa turns back to the spectacle.



               EXT. OVER A FOREST - DAY

               RAMOTH dives and rises suddenly and the THREE BRONZE DRAGONS
               lose her as she disappears above them and into the clouds. 
               They circle for a moment, confused.

               Suddenly, Ramoth dives out of nowhere on to MNEMENTH like a
               bird of prey catching a pigeon.  They tangle together,
               entwining like serpents as they spiral out of control towards
               the ground.

               At the last moment, Ramoth and Mnementh open their wings and
               check their fall.  They crash into the forest, splintering
               giant trees as if they were so many toothpicks.

               The two unlucky bronze dragons circle the spectacle for a
               moment, calling forlornly before they turn away as their eyes
               turn grey.  Unearthly moans of pleasure filter up from the
               ground.



               INT. VIEWING ROOM - DAY

               LESSA stands at the ledge as a cloud of dust in the distance
               marks the site where Ramoth and Mnementh are mating.  Her
               breathing is labored.

               R'GUL stalks out and D'NOL nods politely to F'LAR before
               exiting.

               Lessa gasps with unexpected passion.  She is suffused with
               powerful carnal desires she has never felt before.  Her voice
               shakes as she resists the overpowering urges.

                                   LESSA
                         I feel...  I feel them!  I can
                         feel...  EVERYTHING.

               She turns back to see F'lar also breathing hard with the same
               feelings.

               Lessa charges at him and kisses him deeply.  She rips at his
               clothes, trying to get at his bare skin.  F'lar responds in
               kind and she jumps into his arms.  He is unprepared for this
               and they fall to the ground with a loud THUMP.  The moans
               from the ground bear more than a passing similarity to the
               sounds the dragons made.

               In the shadows at the back of the room, KYLARA stands

               TEARS DRIPPING SILENTLY FROM HER FACE.

               She turns, broken by the sight, and walks slowly from the
               room.



               EXT. VALLEY - MORNING

               A huge army is marching on the volcano that is Benden Weyr. 
               It is still quite a distance away and the soldiers look weary
               from travel.  However, they are well-armed with metal armor
               and long fighting pikes.

               In the middle, LARAD rides with MERON, another lord.  They
               smile at the sight of their goal.

               High above them, a solitary blue dragon turns and flies
               towards the Weyr.



               INT. F'LAR'S QUARTERS - MORNING

               F'LAR wakes from his bed and throws aside the covers.  His
               body is marked by fingernail scratches in several places.  He
               looks over to the bathing room where he sees

               LESSA'S BACK AS SHE BATHES.

               There are a few scratches on her, too.

               MNEMENTH's giant head appears in the doorway.  F'lar smiles
               up at him.

                                   F'LAR
                         You're feeling smug this morning.

                                   MNEMENTH
                             (telepathy)
                         You too.

               He casts another glance at Lessa, who is drying off.

                                   F'LAR
                         Well, she does clean up pretty.

                                   MNEMENTH
                             (telepathy)
                         R'gul is coming.  He's angry.

               F'lar lifts the tapestry to yell into the crack in the wall.

                                   F'LAR
                         Food for-

               With a loud grinding noise, a tray laden with food for two
               arrives.  F'lar drops the tapestry and brings the tray to the
               table as Lessa enters, dressed and pulling her long hair back
               in a knot.

                                   F'LAR
                         R'gul is coming.

                                   LESSA
                         Trying to impress his authority
                         upon us?

                                   F'LAR
                         He has none.

               R'GUL enters.

                                   R'GUL
                         The watch informs me of a large
                         body of armed men approaching the
                         Weyr.

                                   F'LAR
                         The holds F'nor raided?

                                   R'GUL
                         Yes.  Telgar, Nabol, Fort, and
                         Keroon.

                                   F'LAR
                         It's taken them long enough to
                         come.  F'nor's been raiding for
                         months.

                                   R'GUL
                         We must act while there's still a
                         Weyr to protect.

               F'lar smiles, infuriating R'gul.

                                   R'GUL
                         There's nothing to grin about.  We
                         have to think of how to placate
                         them.

                                   F'LAR
                         No, R'gul.  The days of placating
                         the Lords are over.

                                   R'GUL
                         What?  There's a thousand men out
                         there!  Are you out of your mind?  

                                   F'LAR
                         R'gul, that is no way to speak to
                         your Weyrleader.

               R'gul sputters at this but manages to get himself under
               control.  Lessa smiles, barely able to contain her enjoyment
               of his loss in status.

                                   F'LAR
                             (to Mnementh)
                         Call all the wingleaders and
                         wingseconds to the Council Room. 
                         We must discuss how we will greet
                         our... guests.  (to Lessa)
                         Weyrwoman.

               He gestures gentlemanly and she walks cheerfully out,
               followed by F'lar.  R'gul, shaking with anticipated doom,
               follows.



               EXT. VALLEY - DAY

               The army has reached the bottom of the Weyr which stretches
               into the sky above them.  It is a dazzling sight, the
               striated stone cliffs looking like frozen waterfalls.  In the
               middle of the Weyr, directly ahead, is a giant tunnel.

               LARAD sits astride his horse next to MERON, a sharp-faced,
               younger man who is Lord of Nabol.

               Meron stares up at the awesome sight of the Weyr.

                                   LARAD
                         This is blasphemy.

                                   MERON
                         They steal our food.  They take the
                         prettiest girls.  They murder any
                         lord holder who opposes them-

                                   LARAD
                         Fax was always trouble.

                                   MERON
                         Did they have the right to kill
                         him?

                                   LARAD
                         Enough!  Enough, Meron, you are
                         right.  Is this tunnel the only way
                         inside?  They will be expecting us
                         to enter there.

                                   MERON
                             (nods)
                         The locals say so.

                                   LARAD
                             (to a group behind him)
                         Scouting party!

               A GROUP OF SOLDIERS with mountaineering equipment hurries
               forward and stands attentively before their Lord.

                                   LARAD
                         We need another way in.

               The leader of the men nods and they hurry off.

                                   MERON
                         I doubt they'll find anything.

                                   LARAD
                         The dragonmen have seen us.  When
                         they come, we can deliver our
                         ultimatum and then...

                                   MERON
                         They've proved themselves cowards
                         over and over.  They will surrender
                         by nightfall.

                                   LARAD
                         If not... (shrugs) I am glad we
                         brought the siege engines.

               Behind them, in the center of the mass of soldiers, stand
               several giant

               BATTERING RAMS AND CATAPULTS.

               Each more terrifying than the last.



               INT. COUNCIL ROOM - DAY

               The council room is set with tall stained glass windows and
               is empty except for a large stone, oval table and six stone
               chairs.  The chairs are already filled with WINGLEADERS and
               their WINGSECONDS who stand behind them.  S'LEL paces
               uncomfortably.  D'NOL stands and waits with his even younger
               wingsecond, B'FOL.  Two chairs stand empty.

               LESSA enters, followed by F'LAR, R'GUL, and F'NOR.

                                   R'GUL
                             (S.V. to F'lar)
                         Weyrwomen do not attend council
                         meetings.

                                   F'LAR
                         This one does.

               They take their places, with F'lar standing next to the
               largest chair.  There is no place for Lessa to sit.

                                   F'LAR
                         Weyrwoman, would you do me the
                         honor of standing by me?

                                   LESSA
                         Yes, Weyrleader.

               She stands to his right as F'lar sits.  F'nor stands to his
               left.

                                   F'LAR
                         By now you are aware of our guests
                         at the lake plateau below us.

                                   R'GUL
                         More than a thousand men, and well
                         armed!

               F'lar scowls at him.

                                   S'LEL
                         They are moving against the Weyr?

                                   D'NOL
                         Are we dragonmen or cowards?  This
                         is the final insult!

                                   F'LAR
                         Indeed it is.

                                   D'NOL
                         It has to be put down.  The Lord
                         Holders have pushed us and defied
                         us for generations.  I say enough.  
                         I say we load firestone and burn
                         them down where they stand.

               There are gasps of horror from around the table.  D'nol stops
               and looks around, slowly realizing what he has just said.

                                   F'LAR
                         D'nol, you are dismissed from these
                         proceedings.

               D'nol, chastened, stands and leaves.  His wingsecond turns to
               follow him.

                                   F'LAR
                         B'fol, stay.  You must sit to
                         represent your wing.

               Uncomfortably, B'fol sits in his wingleader's chair.

                                   F'LAR
                         Let me be plain, we are sworn to
                         protect Pern.  Is that clear?

               There is a moderate rumbling of assent.

                                   F'LAR
                         Besides, these Lords have already
                         given us the keys to their defeat.

                                   S'LEL
                         They have?

                                   F'LAR
                         Their men are hot and tired, having
                         marched weeks to reach here.  As we
                         saw on the Search, they are afraid
                         of dragons-

                                   R'GUL
                         Oh, comforting.  Do you really
                         think that's enough to defeat a
                         thousand men?

               The assembled dragonmen grumble in annoyance.  It is clear
               that nobody likes R'gul.

                                   F'LAR
                         There is one more factor, R'gul. 
                         You have just named it.

                                   R'GUL
                         What?

                                   F'LAR
                         With an army of that size, who is
                         guarding the Holds?

               Lessa giggles but everyone else looks perplexed.

                                   F'LAR
                         You approve of my plan, Weyrwoman?

                                   LESSA
                         Oh, yes.

                                   S'LEL
                         Plan?  What plan?

                                   F'LAR
                         Will you explain it, Lessa?

                                   LESSA
                             (clearly enjoying this)
                         It's quite simple...

               The dragonmen lean forward as she speaks.



               EXT. OUTSIDE TELGAR HOLD - DUSK

               A VETERAN GUARD, the quintessential grizzled soldier, stands
               outside the locked front gates of Telgar.  He leans against
               his pike, clearly too old for this kind of work.  As he looks
               up into the sunset a

               WING OF DRAGONS APPEARS FROM BETWEEN.

               They fly in formation over his head and the walls of the
               Hold.  The guard turns to follow them and, finding his way
               inside locked, begins banging on the gate with his fist.

                                   VETERAN GUARD
                         Open the gates!  Dragonmen!  We're
                         under attack!

               He continues to pound on the gate, but nobody comes.

                                   VETERAN GUARD
                             (swearing)
                         Shards!

               Finally the gates slowly swing open, revealing a YOUNG GUARD
               who barely fits into his armor.  He bumps into the side of
               the gate and drops his pike.

                                   YOUNG GUARD
                         What is it?

                                   VETERAN GUARD
                         We're under attack!  There are
                         dragons in the courtyard.  Didn't 
                         you see them?

                                   YOUNG GUARD
                         No, I came through the smithy.  You
                         know, over the left side of-

                                   VETERAN GUARD
                         Never mind.  There are enemies
                         inside the Hold!  Alert the rest of
                         the guards.

                                   YOUNG GUARD
                         I am the rest of the guards.

               The Veteran Guard stares at him for a beat.

                                   VETERAN GUARD
                         Never mind, we must defend our
                         Hold.  Come with me, we'll-

               With a woosh of wings the dragons fly over them.  As they fly
               overhead the guards can see, being held on the back of the
               lead dragon,

               THEIR QUEEN BEING CARRIED AWAY.

               The dragons vanish.

                                   YOUNG GUARD
                         That's not good.

               The Veteran Guard sighs and shakes his head.



               INT. VIEWING ROOM - DAY

               LESSA stands with F'LAR, who is half dressed in leather
               armor.  He stands at the ledge, looking down at the

               GIANT ARMY BELOW.

               As he looks out on this scene, men and women work to finish
               fastening his armor.

                                   LESSA
                         But I want to come!  I can help.

                                   F'LAR
                         I'm sorry Lessa, you have to stay
                         here.  Ramoth doesn't fly.

                                   LESSA
                         She just flew yesterday!

                                   F'LAR
                         That was for mating.  Lessa, there
                         is only one queen left in the whole
                         world.  Without her, and you, all
                         of dragonkind will become extinct
                         and Pern will die.

                                   LESSA
                         But I-

               Lessa stops as she sees KYLARA enter.  Kylara puts the final
               touch on F'lar's armor, a flowing cape, and he mutters a few
               (inaudible) kind words to her.  She smiles and leaves. 
               Lessa, grinds her teeth in fury.

                                   F'LAR
                         Watch over the hostages and try to
                         calm them down.  And, if this
                         should go badly, protect them from
                         the soldiers.  Men at war do
                         foolish things.

               Lessa turns on her heel and stomps out as F'NOR enters,
               already wearing armor similar to F'lar's but not as bright.

                                   F'NOR
                         The wing is assembled.

                                   F'LAR
                         Excellent.  Have them load with
                         firestone.

                                   F'NOR
                         Firestone?  But you said-

                                   F'LAR
                         I know what I said.  It was
                         important for the rest of the
                         Council to hear it.  Our wing is
                         different; I trust their
                         discipline.  They will follow my
                         orders exactly, and so will you.

                                   F'NOR
                         Yes, Weyrleader.

               He turns and leaves.  F'lar goes back to the ledge and looks
               at the overwhelming army marching at them.



               EXT. VALLEY - DAY

               LARAD and MERON sit astride horses in the front of their
               army.

                                   LARAD
                         The scouts should be back by now.

               There is a woosh of wings as MNEMENTH lands directly in front
               of them, with F'LAR on his back.  Behind him, F'NOR and the
               rest of F'lar's WING OF DRAGONS land.  Each dragonrider
               carries a sack of what looks like greyish rock lumps.  

               The horses rear and scream at the sight of the giant beasts. 
               The soldiers are panicked as well, but hold their ground. 
               The two Lords step down from their shaking mounts and
               approach.  F'lar climbs down to meet them and the dragons
               settle into sitting positions.

                                   LARAD
                         Dragonman, I have been appointed
                         spokesman for the Holder Lords.  We
                         unanimously agree that the Thread
                         are gone and, therefore the Weyr
                         has outlived its function.  There
                         will be no more tithes, no more
                         Searches, and most of all, no more
                         raiding.

               F'lar stares at them for a beat. 

                                   F'LAR
                         Lords, your complaint is heard.



               INT. HATCHING GROUND - DAY

               LESSA sits impatiently by while RAMOTH messily devours a cow. 
               It tears giant hunks of meat off the carcass with obvious
               delight.  In one corner of the room, a GROUP OF SEVEN LADIES,
               cowers, whimpering, obviously in terror that they will be
               next.

               Lessa stares at the ladies with obvious contempt.

                                   RAMOTH
                             (telepathy)
                         Why are they so afraid of me?

                                   LESSA
                         Well, your table manners are
                         atrocious.

               S'lel enters and bows to Lessa.

                                   S'LEL
                         Greetings Weyrwoman.  Mnementh
                         informs us that it is time to take
                         the hostages down.

                                   LESSA
                         Very well.  I'll come with you.

                                   S'LEL
                         No, I'm sorry.  My orders were
                         quite clear.  You are to stay here.

               Lessa slumps back against Ramoth, arms crossed.  Ramoth holds
               out the grisly head of the animal to Lessa.

                                   RAMOTH
                             (telepathy)
                         Would you like some meat?



               EXT. VALLEY - DAY

               F'LAR, LARAD and MERON are still standing between the WING OF
               DRAGONS and the ARMY.

                                   F'LAR
                         I have heard your complaints, now
                         here are my orders.

                                   MERON
                         Your orders? (he laughs)

               F'lar gestures and the remaining FIFTY-NINE DRAGONS appear
               above them, swooping in complex formations.  The effect on
               the army is immediate, they cower and the few horses they
               have left bolt in fear.

                                   F'LAR
                         My orders.  You will turn and
                         return to your holds.  Within three
                         days, send your fair tithe of food
                         to the Weyr.  Until your tithes are
                         received, the ladies of your Holds
                         will remain with us as... guests.

                                   MERON
                         You can not bluff us.

               F'lar gestures again and one of the wings dives to circle
               within view of the men on the ground.  On the backs of the
               dragons

               SIT THE LADY HOSTAGES FROM BEFORE.

               While some are afraid, others are clearly enjoying the
               flight.  Larad is immediately cowed.

                                   LARAD
                         Enough.  We will accede to your
                         demands.  Expect our tithe-

               Meron, cuts him off, drawing his sword.  Meron advances on
               the dragonmen, but Larad grabs him by the arm.

                                   LARAD
                         Stop!  They've won.

                                   F'LAR
                             (over his shoulder to his
                              men)
                         This goes badly.  Load firestone.

               The dragonmen reach into the sacks and feed the gray lumps
               into the mouths of the dragons.  The dragons chew the
               firestone and swallow.

               Meron breaks free.  He strides toward F'lar, his sword
               raised.  F'lar gestures and all the dragons

               BELCH RED FLAMES.



               INT. HATCHING GROUND - DAY

               The sounds of men and animals screaming in terror filters
               through to LESSA and RAMOTH, who has finished eating.

                                   RAMOTH
                             (telepathy)
                         Sounds like they're having fun.

               Lessa stares up at the sounds angrily and then begins
               climbing Ramoth's back.

                                   LESSA
                         Come on.

                                   RAMOTH
                             (telepathy)
                         F'lar said-

                                   LESSA
                         To hell with him.



               EXT. VALLEY - DAY

               The DRAGONS have burned a semicircle of ash in front of them,
               which is still smouldering.  F'LAR advances to the edge of
               the burnt area and faces a shocked LARAD and MERON through
               the shimmering waves of heat.  Meron drops his sword and
               backs away.

                                   F'LAR
                         We could burn you and your holds to
                         ash and live forever in peace, but
                         we don't.  We could steal every bit
                         of wealth you have and feast as
                         kings, but we don't.  Why?  Because
                         we serve Pern and Pern has an
                         ancient enemy.  Look to the sky!

               The two men look up and see

               THE RED STAR SHINING BRIGHTLY IN THE DAYLIGHT.

                                   F'LAR
                         Have you all forgotten the Sagas
                         and Ballads?  The Red Star always
                         appears before the coming of
                         Thread!  Clear your holds of all
                         greenery, rebuild your firepits, re
                         open the mines and stockpile
                         firestone.

                                   LARAD
                         That will protect us?

                                   F'LAR
                         No, we will protect you.  We are
                         dragonmen.  Our numbers have
                         dwindled, but we grow stronger
                         every day.

               LESSA, riding RAMOTH, appears in the distance, a golden speck
               growing steadily larger.

                                   MNEMENTH
                             (telepathy)
                         Lessa is coming.

                                   F'LAR
                         We have a new queen, and a
                         Weyrwoman of Ruathan blood to ride
                         her.  She has been flown and soon
                         new dragons will hatch to fly
                         against the Thread.  Behold the
                         queen!

               Ramoth, enormous and glinting gold in the sunlight, flies
               overhead with a trumpet of glee, Lessa a tiny, white-robed
               speck on her back.  The Lords and soldiers are dazzled by the
               sight.

                                   F'LAR
                         Now return home.  Your women, those
                         who wish to go, will be returned. 
                         But send your tithes and put your
                         Holds in order.  Your cooperation
                         is required if we are to save Pern.

               F'lar mounts Mnementh.

                                   F'LAR
                         Oh, one more thing.  We found these
                         men trying to scale the Weyr walls
                         and... Rescued them.  I assume you
                         want them back.

               F'lar and Mnementh rise into the air, revealing the SCOUTS
               behind him.  The rest of the dragons launch into the air as
               the Lords stand impotently on the ground watching.



               EXT. BENDEN WEYR - DAY

               LESSA, exuberant, flies RAMOTH through the heart of Benden
               Weyr.  F'LAR and MNEMENTH appear and follow her.  After a
               beat, they land together and dismount on a ledge, Lessa's
               face a mask of defiance.

                                   LESSA
                         Queens can too fly!

               F'lar bursts into laughter.

                                   F'LAR
                         Of course they can fly!  That's why
                         they have wings!

               He grabs her by the shoulders and kisses her.



               INT. HATCHING GROUND - DAY

               It is raining above the Weyr and the few droplets of rain
               that made it all the way to the hatching area at the bottom
               have become a light mist from the heat.  LESSA leans happily
               against RAMOTH, who is curled in a protective semicircle
               around a clutch of eggs.  Forty mottled eggs lie in one pile
               while a single golden egg lies alone near Ramoth's head. 

               KYLARA enters.  While she holds herself defensively proud,
               she can not meet Lessa's gaze.

                                   KYLARA
                         You summoned me, Weyrwoman.  Are
                         the stores not to your
                         satisfaction?

                                   LESSA
                         They're fine, Kylara.  Please, sit
                         down.  I feel we should talk.

               Lessa indicates a place near her.  As Kylara approaches,
               Ramoth raises her head and hisses.

                                   LESSA
                         Hush, Ramoth!

               Kylara sits gingerly and stares out at the eggs, trying to
               think of something to say.

                                   KYLARA
                         Forty-one, and a queen egg as well! 
                         It's an impressive clutch. 

               Ramoth snorts and lowers her head, caressing the golden egg
               on the way down.

                                   LESSA
                         I feel it is time we spoke of
                         F'lar.

               Kylara stiffens.

                                   KYLARA
                         What is there to say?

                                   LESSA
                         Then you and F'lar have not-

               Kylara shakes her head but Lessa gives her a dubious look.

                                   KYLARA
                         Not since you came here.  He says
                         that I should not be sad, that it
                         is the way of those who are bonded
                         to dragons.

               Lessa runs a loving hand along Ramoth's flank.

                                   LESSA
                         It is.  You can't understand what
                         it's like.  As long as Ramoth
                         lives, I will never be alone.  You
                         could know that feeling too, if you
                         bonded with a queen.

                                   KYLARA
                         I tried, if you recall.  Ramoth
                         chose you.

               Lessa indicates the golden egg.

                                   LESSA
                         Now is your chance to try again.

                                   KYLARA
                         The rules forbid-

                                   LESSA
                         The rules are changing.  F'lar
                         wants fewer casualties during
                         Impression.  He feels that
                         potential dragonriders should have
                         a chance get used to the eggs. (a
                         beat)  You can touch it if you
                         like.

               Lessa gestures at the queen egg.  Kylara's face lights up
               with anticipation.  As she stands, Ramoth is immediately
               alert.  Kylara freezes.

                                   KYLARA
                         Ramoth won't hurt me, will she?

               She looks at Lessa who has a very tense look on her face.

                                   LESSA
                         No, she won't hurt you.  Not as
                         long as I am here to calm her.

               Kylara steps forward to the egg and kneels by it.  She
               reaches a hand out, tentatively and touches the shell.

                                   KYLARA
                         It's soft.

               The shadow of Ramoth falls across Kylara's back.

                                   LESSA
                             (O.S.)
                         The heat will harden it.

               Ramoth arches her neck like a cobra preparing to strike, her
               eyes glowing orange with anger.

                                   KYLARA
                         I think...  I think I can almost
                         see-

               The egg becomes translucent and a tiny, foetal dragon is
               visible.  Ramoth makes a hideous growl and Kylara turns back
               in terror just in time to see

               LESSA SLAPPING RAMOTH ON THE FLANK.

               The effect on Ramoth is immediate: she lowers her head,
               cowed, her eyes turning back to blue.

                                   LESSA
                             (to Ramoth)
                         Hush.  She's not going to hurt your
                         precious eggs.

               Kylara stands.

                                   KYLARA
                         The queen seems excitable.  Perhaps
                         I should leave now.

                                   LESSA
                         We can try again tomorrow, if you'd
                         like.

               She looks up and her eyes meet Lessa's.

                                   KYLARA
                         I would.



               INT. RECORDS ROOM - DAWN

               F'LAR is reading through an unusually well-preserved scroll,
               making notes and drinking Klah, a dark brown liquid similar
               to tea.  LESSA enters and sits across from him.  She watches
               him work for a few moments and, when it is clear that he
               isn't paying attention to her:

                                   LESSA
                         You spend too much time reading.

                                   F'LAR
                         I've been trying to find out more
                         about the Thread.  S'lel and F'nor
                         have been searching the abandoned
                         Weyrs for anything that could help.

                                   LESSA
                         Like what?

               F'lar sets down his scroll with a sigh.

                                   F'LAR
                         Anything from the old days.  When
                         our ancestors settled Pern over two
                         thousand years ago, they had
                         knowledge we can only dream of. 
                         Look at this scroll; it's hundreds
                         of years old and looks newer than
                         ones we made only a few seasons
                         ago.

                                   LESSA
                         Did you learn anything important?

                                   F'LAR
                         That the Thread are something
                         called (leans forward to read a
                         line) "Arrhenius Eureka
                         Mycorrhiza."

                                   LESSA
                         What does that mean?

                                   F'LAR
                         I have no idea.

               He bends over his scroll again.  Lessa leans forward and
               reads it as well.  After a beat, this annoys F'lar so much
               that he gives up.

                                   F'LAR
                         Don't you have any duties to attend
                         to, Weyrwoman?

                                   LESSA
                         None.  And, for some reason, all
                         the wings are out on patrol.

               F'lar smiles.

                                   LESSA
                         What?

                                   F'LAR
                         Its about time.  I've been trying
                         to get them all away at once for a
                         few days.

                                   LESSA
                         But why?

                                   F'LAR
                         Because R'gul isn't the only one
                         who believes that gold dragons
                         shouldn't go between.

                                   LESSA
                         Between?  You mean-

                                   F'LAR
                         It is time for your first lesson.

               He takes her by the hands and they hurry out of the room.



               EXT. CLIFFSIDE - DAWN

               It is now winter on Pern and snow falls gently to the ground. 
               F'LAR and LESSA make their way along the outside of the Weyr. 
               There are no steps, so they climb along using natural
               handholds.  The wind whips past them, making the going
               difficult.

                                   LESSA
                             (screaming to be heard
                              over the wind)
                         Couldn't we just fly there?

                                   F'LAR
                             (also yelling)
                         Yes!  But it's important to make
                         the journey on foot.  Every
                         dragonman has to do this before
                         they go between.

               They round a corner and find a small inlet in the rock and
               work their way inside.



               INT. SMALL CAVE - DAWN

               The light from the entrance to the inlet is enough to
               illuminate this small cave.  There is barely room for LESSA
               and F'LAR to fit so they move sideways.  Their voices echo in
               the small space.

                                   F'LAR
                         When you take a dragon between, you
                         have to know exactly where you are
                         going.  You have to visualize your
                         reference points clearly. You must
                         visualize a location high above
                         where you wish to go.  If not...

               They reach the end of the cave and come upon a white shape
               jutting out of the rock.  Lessa leans forward and sees

               THE SKULL OF A DRAGON AND A SKELETAL HUMAN HAND.

               She gasps and steps back, banging roughly against the rock
               behind her.

                                   LESSA
                         Who are they?

                                   F'LAR
                         A young and impetuous man and his
                         poor dragon. 
                         Burn this into your mind and
                         remember it every time you go
                         between.  If you aren't careful,
                         you and Ramoth could end up like
                         them.

               Lessa looks at the skeletons again and shudders.

                                   F'LAR
                         And now we are ready to begin.



               EXT. ABOVE BENDEN WEYR - DAY

               LESSA rides RAMOTH above the Star Stones.  F'LAR circles on
               MNEMENTH, yelling instructions to her.

                                   F'LAR
                         Set the image of the Star Stones
                         clearly in your head.

               Lessa stares down intensely at the rocks.

                                   F'LAR
                         Don't just look at the positions of
                         the stones, look at the way the
                         shadows fall.  Look around you and
                         see where they are in relation to
                         their surroundings.  Ready?  Now
                         follow me.  

               Mnementh turns and dives.  Lessa and Ramoth follow.  They fly
               over the lake and forest where they hover.

                                   F'LAR
                         Now visualize the Star Stones and
                         send that image to Ramoth.

               Lessa visualizes

               THE STAR STONES AS THEY WERE.

                                   F'LAR
                         Do you have the image?  Good.  Most
                         jumps between take about eight
                         seconds but-

                                   RAMOTH
                             (telepathy over F'lar
                              speaking)
                         It is extremely simple.  Shall we
                         go?

               Lessa nods.

               Ramoth beats powerful wings and leaps forward before F'lar
               can stop them.  A patch of air in front of them grows into
               the penetrating dark of between and envelops them.



               EXT. BETWEEN

               LESSA and RAMOTH float in the icy blackness of between. 
               Lessa's heart beats:

               LUB-DUB.

               The frost begins to form on her face, but she smiles anyway.

               LUB-DUB.

               A patch of brightness opens in front of them, the image of
               the star stones as she had imagined.

               LUB-DUB.



               EXT. ABOVE BENDEN WEYR - MORNING

               LESSA and RAMOTH appear above the Star Stones, exactly where
               they were before.  Lessa lets out a whoop of joy as the frost
               on her face falls away, leaving only reddened skin behind.

               MNEMENTH and F'LAR appear above them.  F'lar is fuming with
               rage and the bronze dragon's eyes glow red flecked with
               orange.

                                   F'LAR
                         Never jump Between without my
                         orders!  Didn't you learn anything
                         from the cave?  Now follow me. 
                         We're going to start over.

               Mnementh wheels and dives as before, Lessa and Ramoth follow
               them down over the lake.

                                   LESSA
                         Dragonmen and their repetition. 
                         Lets go somewhere else.  How
                         about...

               Lessa envisions

               RUATHA AS IT WAS BEFORE FAX INVADED.

               The firepits are still lit and the Hold is in pristine
               condition.

               Lessa and Ramoth disappear.



               EXT. BETWEEN

               LESSA and RAMOTH once again float in the total blackness.

               LUB-DUB.

               Lessa leans forward and touches her dragon's neck.

               LUB-DUB.

               Ramoth concentrates, staring forward at an invisible point in
               the infinite distance.

               LUB-DUB.



               EXT. ABOVE RUATH HOLD - MORNING

               LESSA and RAMOTH appear high above Ruath Hold.  It is
               springtime.  The surrounding area is clean of greenery and
               the firepits are lit.  Lessa smiles down and then grimaces
               with pain, her hands going to her head.

                                   RAMOTH
                             (telepathy)
                         Lessa, is something wrong?

                                   LESSA
                         It's nothing.

               However it gets steadily worse.

               Below them, AN ARMY masses quietly outside the walls of the
               hold.  Several men 

               THROW GRAPPLING HOOKS OVER THE WALL.

               Lessa, starting to become dizzy from the pain, lurches and
               finds herself looking down at the sight.

                                   LESSA
                         What?

               Below them,

               FAX GIVES ORDERS TO SOME OF HIS MEN.

                                   LESSA
                         This isn't Ruatha!  This is Ruatha
                         that was.  This was the day I woke
                         with a headache.  Something was
                         wrong.  I saw a gold dragon...

               Below them, a door opens and YOUNG LESSA steps out on to a
               balcony.

                                   LESSA
                             (gasping with pain)
                         Fax is coming!  Warn the-

               She clutches Ramoth's neck, trying not to scream.

                                   RAMOTH
                             (telepathy)
                         Lets go back.  Show me the Ruatha
                         of today.

               Lessa sits up and visualizes

               RECENT RUATHA WITH THE WATCHFIRES OUT AND BROKEN WALLS.

               Ramoth and Lessa vanish into between.  Below, Young Lessa
               stares into the sky and goes back into her bedroom.



               EXT. BETWEEN

               LESSA and Ramoth fly in the darkness.  Lessa is slumped
               forward.

               LUB-DUB.

               Lessa straightens up, the pain easing.

               LUB-DUB.

               She runs a hand reassuringly over Ramoth's neck and the
               dragon arches in response.

               LUB-DUB.



               EXT. ABOVE RUATH HOLD - MORNING

               LESSA and RAMOTH appear above a broken Ruath Hold choked with
               greenery and with broken walls and cold firepits.

                                   RAMOTH
                             (telepathy)
                         Are you all right?

                                   LESSA
                         Yes, I'm-

               Lessa gasps as the pain starts again.

                                   LESSA
                         I don't understand!  What-

               Below her, Lessa spots the WATCH-WHER chained to the wall
               beside a stack of barrels.  From the sky, Lessa can see into
               her hiding place and YOUNGER LESSA'S legs as she stirs into
               wakefulness.

                                   LESSA
                         We're still in the past. I-

               She grunts and balls her fists into her eyes as the pain
               increases.

                                   RAMOTH
                             (telepathy)
                         Lessa?

                                   LESSA
                         Back.  Back to the Star Stones!

               Lessa visualizes

               THE STAR STONES OVER BENDEN WEYR AND THE SURROUNDING AREA.

               And the two vanish.  Below, Younger Lessa pets the Watch
               Wher.

                                   LESSA
                         I don't know.  I just feel...
                         something.  Danger.

               She looks up in the direction Ramoth was a moment before.



               EXT. ABOVE BENDEN WEYR - MORNING

               LESSA and RAMOTH appear in the sky, trailing frost.  Lessa is
               slumped forward.  Ramoth lands and Lessa falls off of her
               back onto the rocky ground.  She coughs and gags, trying not
               to vomit, but she's recovering.

                                   RAMOTH
                             (telepathy)
                         Are you okay?

                                   LESSA
                         I'm fine.  We're back.  The pain is
                         gone.  (throws her arms around the
                         dragon's neck) I'm going to be-

               MNEMENTH appears overhead, diving towards them.

                                   LESSA
                         I'm going to be in big trouble.

               Mnementh lands and F'LAR, fuming with rage (literally as the
               frost from between steams off) grabs Lessa by the arms and
               shakes her.

                                   F'LAR
                         How dare you risk yourself and
                         Ramoth again!  Do you realize what
                         would have happened if we had lost
                         you?  Where did you go?

                                   LESSA
                             (weakly)
                         Ruatha.

               F'lar shakes her again.

                                   F'LAR
                         We went to Ruatha looking for you. 
                         You weren't there.  Where did you
                         go?

                                   LESSA
                             (plaintive)
                         We went to Ruatha.  Twice.

               F'lar looks into her eyes and sees the pain there for the
               first time.  He helps her to a rock and sits next to her,
               still holding her arms.

                                   F'LAR
                         What happened?

                                   LESSA
                         We went to Ruatha but we went back
                         to Ruatha.  We went between times.

                                   F'LAR
                         You what?

                                   MNEMENTH
                             (telepathy)
                         It's true, F'lar, I can see it in
                         Ramoth's mind.

               F'lar stands and stares out toward the sky.

                                   F'LAR
                         How?

                                   LESSA
                         I told Ramoth to go between to
                         Ruatha but I was thinking of Ruath
                         Hold as it was when I was a girl. 
                         We saw Fax invade.  We saw... (a
                         beat)  Then I tried to take us to
                         Ruatha of today, but I haven't seen
                         the Hold in three years so we went-

                                   F'LAR
                         You went to three years ago.

                                   LESSA
                         Yes.

               Suddenly, F'lar jumps on to Mnementh's back.

                                   LESSA
                         Where are you going?

                                   F'LAR
                         Telgar Hold.

               Mnementh opens his massive wings.

                                   LESSA
                         But why?

                                   F'LAR
                         To save my father's life.

               They launch into the air.

                                   LESSA
                         Wait!  The pain-!

               But they have vanished only a few feet from the ground. 
               Lessa stares impotently into the sky.



               EXT. TELGAR HOLD'S COURTYARD - NIGHT

               A party is being held inside the courtyard of Telgar Hold. 
               Groups from various holds have gathered for merrymaking. 
               SERVING WOMEN bring trays of drink and food to the crowd as a
               small BAND OF MINSTRELS plays a tune.  It is a chaotic
               assembly with guests weaving between tables to talk to other
               guests.  On the walls, several dragons watch the party with
               amused attention.

               In one corner LORD FAX, younger but with a familiar cruel
               look in his eyes, whispers to his captain, GIFFLEN. 
               Gifflen is huge and muscular with the scars of a man who has
               led a vicious life.  Fax gestures towards a dragonman in the
               center of the party.

               F'LON, a bronze rider who looks much like F'lar but taller
               and more cheerful, converses with ROBINTON, who is younger
               but still in blue.  Both men wear the complicated status
               knots on their shoulders that mark them as Weyrleader and
               Masterharper.  Both men are drinking quickly from large mugs.

               Gifflen nods to Fax and begins to work his way towards F'lon
               through the crowd.

               F'lon and Robinton are trying to outdrink each other.  Both
               slam their empty mugs down, simultaneously. 

                                   F'LON
                             (to a server)
                         Some of the Benden red for the
                         Masterharper!

                                   ROBINTON
                         Oh, not the red!  I'll never be
                         able to wake up in the morning and
                         I have to play for the council.

                                   F'LON
                         Aha!  I knew you had a weakness,
                         Robinton.  I will drink you under
                         the table one of these days.  Where
                         do they keep the red?

               F'lon turns away and begins to walk across the courtyard when 

               HE BUMPS INTO GIFFLEN HARD.

               It is obviously not an accident.

                                   GIFFLEN
                         You knocked into me, dragonrider! 
                         Apologize.  

                                   F'LON
                         Apologize?  I am a dragonman.  I
                         rank you.  You should be the one
                         making redress to me.

                                   GIFFLEN
                         Ha!  Who would apologize to a
                         dragonwoman.

               All eyes turn towards the scene and a hush falls over the
               crowd.  F'lon draws his knife.

                                   F'LON
                         I'll show you dragonwomen.



               EXT. CLIFFTOP - NIGHT

               High above the hold a YOUNG F'LAR and YOUNG F'NOR sit with
               their DRAGONS, who are much smaller then we have seen them. 
               They crouch against their animals for warmth and comfort and
               stare down at the Hold, which is visible in the distance
               below.  Sounds from the party filter up to them.

                                   F'LAR
                         They seem to be having a good time. 
                         Why must we keep watch while they
                         drink themselves silly?

                                   F'NOR
                         Because we're young.  Our dragons
                         are barely a year old so we must
                         endure the drudge work. 
                         Personally, I'd rather be with
                         Canth then all the beer and
                         barmaids on Pern.

               F'nor strokes the head of his brown dragon.  F'lar looks back
               at Mnementh and nods his agreement, putting an arm around his
               dragon's neck.  Suddenly, F'lar gasps and 

               GRIPS HIS HEAD IN PAIN.

               F'nor jumps to his side.

                                   F'NOR
                         F'lar!  What is it?

                                   F'LAR
                         I don't know.  It hurts it-

               He looks up suddenly, staring at Telgar Hold in the distance.

                                   F'LAR
                         Something's wrong down there.

               He climbs onto the back of Mnementh.

                                   F'NOR
                         What?  What's wrong?

                                   F'LAR
                         I don't know!

               They launch off the rock in the direction of the Hold.  F'nor
               climbs on to Canth and they follow him.



               EXT. TELGAR HOLD'S COURTYARD - NIGHT

               F'LON and GIFFLEN are facing off, knives drawn.  ROBINTON
               steps between them.

                                   ROBINTON
                         I observed the whole thing.  An
                         accident.  Accidents can occur when
                         folk have been drinking.

                                   GIFFLEN
                         Out of the way harper!

               Gifflen backhands Robinton hard across the side of the head,
               knocking him against a table.

                                   F'LON
                         You dare!

               F'lon charges forward in an attack made clumsy by drink. 
               Gifflen, who is completely sober, easily parries it and cuts
               deep into F'lon's midriff.



               EXT. ABOVE TELGAR HOLD - NIGHT

               OLDER F'LAR rides MNEMENTH towards the Hold below them.  He
               is doubled over in pain.  Mnementh's eyes glow white in the
               darkness.

                                   F'LAR
                         Do you feel it?  The pain?

                                   MNEMENTH
                             (telepathy)
                         Yes.  We are too many in this time.

                                   F'LAR
                         We have to hurry, it's about to
                         happen.

               Mnementh falters as if buffeted by the wind.

                                   MNEMENTH
                             (telepathy)
                         I'm trying.



               EXT. TELGAR HOLD'S COURTYARD - NIGHT

               F'LON and GIFFLEN are still fighting.  F'lon is covered in
               small cuts but Gifflen is relatively unhurt.  F'lon lets out
               a roar of anger and

               CHARGES GIFFLEN.

               Gifflen kicks him in the stomach, knocking him to the ground.

                                   SEVERAL
                         Foul play!  Dishonor!  (etc.)



               EXT. OUTSIDE TELGAR HOLD - NIGHT

               YOUNG F'LAR and YOUNG F'NOR have landed just outside the
               walls.  The gates are open and the fight can just be seen
               between the heads of the onlookers.  F'lar falls off of YOUNG
               MNEMENTH, and F'nor jumps off YOUNG CANTH to help his brother
               to his feet.

               With his brother holding him up, he makes his way into the
               courtyard, grunting with ever-increasing pain.  Behind them,
               Young Mnementh lies on the ground, eyes yellow, Canth looking
               over him with a worried air.



               EXT. ABOVE TELGAR HOLD - NIGHT

               MNEMENTH and F'LAR are diving towards the hold where the
               fight is ending.  GIFFLEN is barely visible, standing above
               F'LON with his knife raised.

               Mnementh falters again, nearly dislodging F'lar, who is so
               weak he can barely hang on.

                                   F'LAR
                             (s.v.)
                         You can do it Mnementh.  You must.

                                   MNEMENTH
                             (telepathy)
                         I... I can't!

               Mnementh falls to the ground, crashing into it with
               incredible force.  Though weak, the dragon manages to extend
               a wing to protect his rider, keeping him from serious injury.



               EXT. TELGAR HOLD'S COURTYARD - NIGHT

               F'LON lies stunned and winded on the ground.  GIFFLEN
               switches the grip on his knife for a final blow.  R'GUL and
               S'LEL (their younger versions) appear in the courtyard.

               Gifflen stabs F'lon in the heart.  F'lon jerks once and dies. 
               The crowd gasps in horror.  On the walls above a BRONZE
               DRAGON screams with despair and launches into the air,
               disappearing immediately into the darkness.

                                   S'LEL
                         What's this?  By the shards!

               ROBINTON approaches, heavy with grief.

                                   ROBINTON
                         It was no accident.  No accident.

               S'lel grabs Gifflen, twisting his arm behind his back.

                                   S'LEL
                         The penalty for murdering a
                         dragonman is exile to the islands.

               FAX appears, his smugness covered by false outrage.

                                   FAX
                         What is this?  Release my captain!

                                   S'LEL
                         He killed a dragonman.

                                   FAX
                         He probably deserved it.

               YOUNG F'LAR and YOUNG F'NOR have made it through the crowd to
               the murder scene.  F'nor is still holding his brother up. 
               R'gul and S'lel turn to him.

                                   R'GUL
                         F'lar, F'nor.  I-  Your father was
                         in a duel.  He-

               F'lar takes one look at his

               DEAD FATHER'S BODY

               And faints to the ground.  R'gul and S'lel exchange horrified
               glances.



               EXT. OUTSIDE TELGAR HOLD - NIGHT

               MNEMENTH and F'LAR pull themselves up from the ground.  Both
               are badly scratched and bruised but mostly unharmed.  The
               dragon bleeds green.  F'lar is in less pain now that his
               other self is unconscious, but he is still weak.  Mnementh's
               eyes illuminate the scene in a dim grey.

               F'lar turns towards the hold and sees

               DRAGONMEN CARRYING HIS FATHER'S BODY AWAY.

               He climbs on to the dragon's back and they launch into the
               darkness.



               EXT. ABOVE BENDEN WEYR - MORNING

               LESSA and RAMOTH sit staring at the sky.  F'LAR and MENEMENTH
               appear from between and land, shakily next to them.  F'lar
               tries to dismount gracefully but he stumbles and Lessa helps
               him down to sit on a rock.  They sit in silence for a beat.

                                   LESSA
                         F'lar?  What-

                                   F'LAR
                             (s.v., reciting from
                              memory)
                         When you have to go to a place you
                         have never visited before, you must
                         get your reference point from your
                         wingleader.

                                   LESSA
                         F'lar-

                                   F'LAR
                             (still reciting)
                         He will send the image to his
                         dragon who will, in turn, send it
                         to yours-

               Lessa puts her hand on the back of his neck.  He refuses to
               look at her or be comforted by her touches.

                                   LESSA
                         Hush.  It's okay.

                                   F'LAR
                             (no longer trying to
                              teach)
                         When a Weyrleader dies
                         unexpectedly, the leadership
                         traditionally goes to his eldest
                         son.  But I was young and...  I
                         didn't handle the news of my
                         father's death well.  The other
                         wingleaders would not accept me as
                         Weyrleader so R'gul-

               Lessa takes his head in her hands and kisses him gently,
               running her fingers through his hair.  F'lar relaxes and lets
               her comfort him.

               Behind them, the sun rises to the top of Finger Rock and, to
               one side

               THE RED STAR IS PERFECTLY FRAMED IN THE CENTER OF EYE ROCK.



               EXT. THE SKY - MORNING

               The Red Star looms large over the clouds.



               EXT. SPACE

               The Red Star is huge now.  The planet is streaked with
               greyish mountains that stick up over the red sands, which
               cover most of the visible surface.  It is barren with no
               water, icecaps, or clouds.



               EXT. RED PLANET - DAWN

               On the surface, the planet is a monotonous red broken only on
               the horizon by the mountains.  There is no atmosphere, so the
               sky is black and filled with stars.

               The ground is covered with plant-like creatures that resemble
               underwater tube-worms.  They have white stalks with red
               blossom-like openings at the top.  These "thread-flowers" are
               dormant and motionless.

               Slowly, on the horizon,

               PERN RISES.

               It gradually climbs into the sky, bright and beautiful.  From
               this vantage, the green areas of the ground and the blue of
               the water are clearly visible.

               The effect on the plants is immediate.  As Pern appears, they
               stretch erect and their red blossoms expand.  They bend
               towards Pern as if they could reach out and touch it.

               Suddenly, one of the plants explodes into red dust. 
               Something small, round, and white shoots away from its
               twisted corpse.  Another explodes, and another and another. 
               The thread-flowers explode en masse all over the plain.

               One large plant, straining towards Pern,

               EXPLODES.

               A smooth, white ORB launches into the sky, on its way into
               space.



               EXT. SPACE

               The ORB travels the huge expanse between the planets,
               silently spinning in nothingness.  Pern looms ahead, clouds
               and landmasses clearly defined.



               EXT. HIGH ABOVE PERN - MORNING

               The ORB reaches the upper atmosphere and begins to heat up. 
               It glows as the friction warms it.  Flames ignite around the
               orb as the air grows thicker and it shakes under the
               tremendous forces.  The flames and shaking reach a fever
               pitch when it

               SHATTERS LIKE AN EGG.

               The contents unwind like a ball of string, forming white
               filaments that float in a wispy line.  There is a mass at the
               front that could be considered a head, but beyond that it has
               no distinguishable parts.

               It glows silver as the air continues to heat it.  Below, Pern
               is growing dangerously close.  Below, the snowy peaks are
               visible and the green plants of an orchard.  Ruath Hold is
               off to the side.

               The Thread spins like a streamer, trying with what little
               instinct and ability it has to guide its fall so it will land
               in the orchard.



               EXT. SNOWY MOUNTAIN - MORNING

               A rocky cliff juts high into the skies, covered in a thick
               layer of white powder.  The wind blows, causing the snow to
               form a gentle spray.

               The THREAD falls out of the sky and slams into the snow with
               a hiss.  A puff of black dust is ejected into the air, the
               only sign of the Thread's demise.  It darkens the snow and
               blows away.

               For a beat or two, the mountain is silent, but then

               ANOTHER THREAD HITS THE GROUND.

               It, too, ejects black dust.  A beat later, another thread
               hits, then another and another, until they are falling like
               rain.  The snow grows charcoal grey.



               INT. F'LAR'S QUARTERS - DAY

               F'LAR sits over a map of Pern on the table, using a
               straightedge and a piece of charcoal to draw overlapping,
               horizontal lines over it, from northwest to southeast.  LESSA
               enters and walks over to see what he's doing.

                                   LESSA
                         What's this?

                                   F'LAR
                         Waves of attack.  I'm trying to map
                         out when and where the Thread will
                         fall.

                                   LESSA
                         You can do that?

                                   F'LAR
                         According to the records, the
                         Thread fall when the Red Star is at
                         perhelion.  Since the Red Star
                         turns very fast and in the opposite
                         direction from Pern; it also
                         wobbles erratic-

               He looks up to see Lessa staring at him with a look of false
               comprehension.

                                   F'LAR
                         Thread falls in predictable
                         patterns for six hours with a
                         fourteen hour break between them. 
                         Luckily, Thread dies unless it hits
                         warm soil so...

               F'LAR DRAWS A LINE ON THE MAP AND STOPS AT THE OCEAN.

                                   F'LAR
                         We don't have to patrol the sea to
                         the south.  Or the mountains to the
                         north.

               F'LAR DRAWS ANOTHER LINE ENDING AT THE MOUNTAINS.

               He looks up.

                                   F'LAR
                         Or the desert.  With proper
                         planning, we can hold the Thread
                         off until Ramoth can produce more
                         hatchlings.

                                   LESSA
                         You've a lot of faith in one
                         queen's capacity.

               She turns and goes off to the bathing room.

                                   F'LAR
                         Where are you going?

                                   LESSA
                         Just to wash up before we eat.

               F'lar chuckles.

                                   F'LAR
                         Again?  You've already had three
                         baths today!

                                   LESSA
                         If you hadn't bathed for ten full
                         years you'd wash at every
                         opportunity too.

               She stomps off.  F'lar turns back to his work.  After a beat,
               R'GUL enters.  He's covered in black dust, except for a patch
               around his eyes that were covered by the goggles.  R'gul
               coughs as he brushes off his clothes.  F'lar gestures for him
               to come in.

                                   R'GUL
                         My wing patrolled the High Reaches,
                         no Thread to be seen.

                                   F'LAR
                         Any warm air masses?

                                   R'GUL
                         Not this season.

                                   F'LAR
                         Good.  Thank you.

               He turns to leave but stops when Lessa re-enters.  She is
               stiffly pleasant.

                                   LESSA
                         Greetings bronze rider.  How was
                         your patrol?

                                   R'GUL
                         Dusty.  Damned dusty.  (at her
                         look)  What?

               Lessa has frozen; her face goes white.  F'lar turns, noticing
               this too.

                                   F'LAR
                         What's the matter with dust?

                                   LESSA
                             (reciting)
                         Crack dust, black dust.

                                   R'GUL
                         The Ballad of Moreta's Ride?

               Lessa and F'lar stare at each other a beat, horrified.

                                   F'LAR
                         Thread is falling!  They're
                         freezing in the snow and cold air
                         masses.

               F'lar checks his chart.

                                   F'LAR
                         But they won't be freezing for
                         long.  They could be dropping right
                         over Ruatha any second.  

               F'lar rushes out, grabbing his leather riding gear as he
               goes.  R'gul watches after him, stunned.

                                   R'GUL
                         But the thread is a myth.  There
                         hasn't been a threadfall for four
                         hundred-

               Lessa grabs him and gives him an almost F'lar-like shake.

                                   LESSA
                         You were wrong.  The Thread is
                         here.  Now be a dragonman.  (shoves
                         him at the door) Go on you old
                         fool!  

               Lessa hurries off.



               INT. BENDEN WEYR - DAY

               The center of the Weyr is bustling with normal activity. 
               PEOPLE and DRAGONS bustle along the stairways and ledges
               going about their business.  F'LAR appears from his chambers,
               trying to strap his riding gear on as he goes to his ledge.

                                   F'LAR
                         Dragonmen!

               His booming shout echoes through the Weyr and everyone stops
               what they are doing.  A hush falls.  F'lar raises both his
               fists straight up in the air in an obvious hand signal.

                                   PEOPLE
                             (murmuring with increasing
                              intensity)
                         Threadfall!  The thread are
                         falling!  (etc.)

                                   F'LAR
                         Threadfall!

               He lowers his arms and goes back to strapping his riding gear
               on.  LESSA appears and hurries to help him.

                                   LESSA
                         F'lar I-

               A BRONZE DRAGON lands on the ledge next to them.  B'IRTO, an
               attractive bronze rider, sits at attention on dragonback.  He
               wears a sack of firestone.

                                   B'IRTO
                         My wing stands ready, Weyrleader. 
                         Is it true?  Have the thread
                         returned?

                                   F'LAR
                         They have.  Go to Ruatha and
                         protect the hold.

               B'irto salutes and F'lar makes a pumping gesture with his
               arm.  B'irto and his dragon dive off the ledge.  A beat later
               they reappear shooting straight upward out of the Weyr, the
               eleven dragons of his wing following him out.

                                   LESSA
                         I want to come with you!

                                   F'LAR
                         You can't.

               S'LEL and another bronze rider, D'NOL land on the ledge. 
               F'lar makes the arm-pump signal and they dive off, shooting
               out of the top of the Weyr just as B'irto did.

               Lessa finishes suiting F'lar up.

                                   LESSA
                         I can help.

               F'lar straps on a sack of firestone.

                                   F'LAR
                         You can't.  Queens can't chew
                         firestone, it makes them sterile.

               F'NOR, R'GUL, and their dragons are on the ledge.

                                   F'NOR
                         The wing stands ready.

                                   F'LAR
                         Circle.  I'll meet you outside.

               F'lar pumps his arm again and they dive off and disappear
               above.  MNEMENTH lands and F'lar moves to mount him.  Lessa
               grabs his arm.

                                   LESSA
                         I won't stay here while you're out
                         there risking your life.

                                   F'LAR
                         Lessa, the Thread will be falling
                         for fifty years and we have only
                         one Weyr to protect the whole
                         planet.  If something goes wrong,
                         Ramoth will have to survive to
                         breed more dragons.

               Lessa begins to tear up.

                                   LESSA
                         Nobody will fly Ramoth but
                         Mnementh!  (whispering) Nobody will
                         fly me but you.

               They embrace, kissing wildly, then F'lar is gone, diving with
               Mnementh out of the Weyr.  Lessa stands impotently behind,
               watching them go.



               EXT. OUTSIDE THE WEYR - DAY

               SEVENTY DRAGONS fly in formations of twelve around the
               outside of the Weyr.  MNEMENTH appears at the head of the
               formation and they all disappear.



               EXT. BETWEEN

               F'LAR rides MNEMENTH through the blackness.

               LUB-DUB.

               Other DRAGONS are barely visible flying in formation because
               of the yellow glow from their multifaceted eyes.

               LUB-DUB.

               Many of the dragons disappear.

               LUB-DUB.



               EXT. ABOVE RUATH HOLD - DAY

               The DRAGONMEN appear in tight formation above Ruatha.  The
               mountains loom white in the distance and the Hold is far
               below them.

               High above, Thread are spiraling down like a giant white
               blizzard.  They fall in large patches but, over the distance,
               it looks like a nearly continuous, silver-glowing rain
               shower.

               B'IRTO and HIS WING rise to meet them. 

                                   MNEMENTH
                             (telepathy)
                         B'irto says we're just in time, the
                         Thread are just beginning to fall
                         over green soil.

               The dragons form in angled lines around MENEMENTH, like
               spokes of a wheel with the BRONZE WINGLEADERS clustered
               around F'LAR.

                                   F'LAR
                         (yelling to the nearby wingleaders) 
                         Sweeping line formation northeast
                         towards the mountains!

               F'lar makes a hand gesture.  The wings spread out into a line
               and fly towards the mountain.  As they reach the thread, the
               dragons turn their heads back and the dragonriders feed them
               lumps of coal.  The dragon heads whip back and they 

               BELCH FLAME AT THE FALLING THREAD.

               The Thread blackens to dust as the phosphene emissions hit
               them.

               The dragons continue to fly towards the mountains, belching
               flame at the Thread as they pass.

                                   F'LAR
                             (making hand gestures as
                              he speaks)
                         S'lel, take your wing and do a low
                         sweep back!  B'irto, circle the
                         hold, they'll need extra
                         protection!  All remaining wings,
                         break!

               F'lar gestures again and the dragons break formation and turn
               back in a flurry of colored wings.



               INT. VIEWING ROOM - DAY

               LESSA stands at the ledge, looking tensely out at the
               horizon.  KYLARA enters and approaches.

                                   KYLARA
                         Weyrwoman.  (a beat) Lessa?

                                   LESSA
                         I can sense them.  (a beat) Out
                         there, fighting the Thread.

                                   KYLARA
                         I wish I could feel that.

                                   LESSA
                         No you don't.

                                   KYLARA
                         The drummers have sent messages to
                         all the Holds.  I've also had
                         Manora prepare the infirmary.

               Lessa turns grimly back to the window.

                                   KYLARA
                         Our supply of blisterweed salve is
                         low.  We could try to gather more
                         but-

               Lessa holds up a hand and Kylara stops.

                                   LESSA
                         All we can do is wait.

               They both stare impotently out at the horizon.



               EXT. ORCHARD - DAY

               A large fruit tree sits among others in carefully arranged
               rows.  

               Suddenly, a Thread falls on the upper branches.  The moment
               it touches the tree, it explodes, hissing, into white
               tendrils, shooting in all directions.  Each tendril that
               touches a branch digs into it and explodes into more. The
               tree is soon covered in a sheet of white yarn-like thread
               that slowly fattens.

               The top of the tree

               BURSTS INTO FLAME, KILLING THE THREAD.

               A green dragon flies overhead, gaining altitude then veering
               sharply towards more targets.



               EXT. ABOVE RUATH HOLD - DAY

               The DRAGONMEN have cleared most of the local Thread from the
               sky and are going after stragglers.  B'IRTO'S WING flies in
               concentric circles above Ruath Hold, burning Thread as it
               falls.  One piece

               SLIPS THROUGH AND FALLS TO THE HOLD.

               A BROWN RIDER dives in pursuit.



               EXT. CASTLE COURTYARD - DAY

               The Thread hits the stones of the courtyard and bounces off
               them, hissing as it dies.  Suddenly it

               SHOOTS A TENDRIL TOWARDS A BLADE OF GRASS.

               Alive again, the Thread eats through the grass, burrowing
               between the stones.

               On the walls a SENTRY, hiding under a stone awning sees
               what's happening and points.

                                   SENTRY
                         Thread!  Thread in the courtyard!

               A TEAM OF MEN, located near a lit firepit on the wall, shovel
               a load of flaming coals into a metal container.  They rush
               the coals down towards where the Thread is.  Before they can
               get there

               THE THREAD EXPLODES INTO FLAMES.

               The BROWN DRAGON lands near the charred Thread.

                                   BROWN RIDER
                             (to the team with the
                              coals)
                         Tell your Lord Holder to purge his
                         courtyard more carefully!

               A RUNNER, carrying a sack of firestone approaches and hands
               it to the Dragonrider who gratefully exchanges it for his
               own, nearly empty sack.

                                   RUNNER
                         Will it be over soon?

                                   BROWN RIDER
                         Soon.  You may tell the others that
                         the Thread are now falling
                         southwest of here.  Still, stay in
                         shelter for another two hours.

               The dragon launches into the air.



               EXT. ABOVE RUATH HOLD - DAY

               The DRAGONMEN are forming up around F'LAR.  Some of them are
               marked with dark red burns from where they have been touched
               by Thread.  The skies are peaceful and clear.

                                   F'LAR
                         They're falling too far away. 
                         We're going to have to go between
                         to catch up with them.  Dragonmen,
                         with me!

               F'lar and his dragon vanish between.  A moment later, the
               other dragons follow.



               EXT. ABOVE A RAINFOREST - DAY

               Thread is falling heavily; the skies are nearly white. 
               However, none of it has yet to reach the verdant forest
               below.

               The DRAGONS

               APPEAR IN FORMATION.

                                   F'LAR
                             (still gesturing)
                         All wings, break and attack!

               The dragons spiral off in different directions, each chasing
               clumps of falling Thread.  F'LAR and MNEMENTH rise up above
               the fray to get a better view.

                                   F'LAR
                             (to Mnementh)
                         Tell F'nor to move the wing
                         westward ahead of the leading edge.

               Telepathy music plays as Mnementh relays the messages.

                                   F'LAR
                         C'gan is taking on too much by
                         himself.  Tell T'sum to join him.

               F'lar looks down to see R'GUL'S WING, flying in close
               formation as they chase down low-falling Thread.

                                   F'LAR
                         Tell R'gul his wing is too tight. 
                         I told them to break!



               EXT. LOW ABOVE THE RAINFOREST - DAY

               R'GUL pauses sweeping over the treetops to listen to the
               telepathy music coming from HATH.

                                   R'GUL
                         Tell F'lar that I have been
                         Wingleader since before he even
                         Impressed his dragon.  I know
                         perfectly well how-

               He turns to look up at F'lar and sees

               A MASS OF THREAD FALLING RIGHT OVER F'LAR.

                                   R'GUL
                         F'lar!  Above you!

               He gestures wildly at the Weyrleader.



               EXT. ABOVE A RAINFOREST - DAY

               F'LAR turns and

               LOOKS UP AT THE FALLING THREAD.

                                   F'LAR
                             (to Mnementh)
                         Dive!

               MNEMENTH folds his wings and they dive towards the ground. 
               They fall with great speed, but the Thread is already upon
               them.  Suddenly

               R'GUL AND HATH APPEAR FROM BETWEEN.

               Fire blazes from HATH, turning the Thread to ash, but they
               miss one.  The last Thread hits F'lar in the arm and

               EXPLODES INTO TENDRILS.

               The tendrils reach down to Mnementh's wing and both man and
               dragon scream in pain as the Thread quickly spreads over
               their bodies.

               Below them, the ground rushes up at terrifying speed.  A dark
               patch appears before them and expands into the total
               blackness of between.



               INT. ABOVE BENDEN WEYR - DUSK

               Above the Star stones, the sunlight is fading.  A DRAGON
               appears from between.

               Both dragon and rider are heavily crossed with Threadscore. 
               The rider slumps over the neck of his dragon, who falters on
               torn wings, trying to fly inside.



               INT. HATCHING GROUND - DUSK

               LESSA is calming RAMOTH who is making loud, defensive noises
               over her clutch of eggs.  She is upset by KYLARA and other
               HEALERS who are helping the WOUNDED MEN and DRAGONS that are
               strewn around the hatching ground.

                                   LESSA
                         Hush!  We didn't have any choice. 
                         This is the only place big enough
                         to-

               With a screech, the DRAGON and RIDER wheel into view.  Lessa
               looks up to see

               THE RIDER HANGING BY ONE ARM OFF OF HIS BRONZE DRAGON.

                                   KYLARA
                         F'lar!

                                   LESSA
                             (ordering)
                         Ramoth!

               Ramoth leaps into the air and catches the struggling dragon
               with her enormous back.  Together they stabilize their
               descent and slowly land with a thump at the far end of the
               room.

               In the torchlight, the dragon is now revealed to be S'LEL
               covered with blood.  Kylara and Lessa help him to the ground
               as a healer rushes up.  The healer gasps as she sees his
               wounds, and begins applying a white cream.

                                   S'LEL
                         Too damned much Thread!  It's
                         falling everywhere.  Have to...get
                         back to help.

               He tries to sit up, but coughs blood.  Lessa presses him back
               down gently. 

                                   LESSA
                         Rest now.  You've earned it.

               S'lel shakes his head.

                                   S'LEL
                         "Dragonmen must fly when Thread are
                         in the sky."

               He tries to sit up but grunts in pain and then sighs.  His
               eyes glaze over and he dies.  His dragon, who looms nearby,
               instantly stiffens and lets out a wail of anguish, its eyes
               turning grey.  The dragon

               LEAPS UP AND INSTANTLY VANISHES BETWEEN.

                                   LESSA
                         Where...  Where did he go?

                                   KYLARA
                         Between.

                                   LESSA
                         But to where?

                                   RAMOTH
                             (telepathy)
                         To nowhere.  It is our way.

               Lessa turns to look at Ramoth.

                                   LESSA
                         You wouldn't-

                                   RAMOTH
                             (telepathy)
                         Not while you are alive.

               Lessa hugs her dragon as the healers cover S'lel's body.



               EXT. ABOVE A RAINFOREST - DAY

               F'LAR and MNEMENTH appear from between, the Thread that
               attacked them, dead and withered.  F'lar brushes the brittle
               material away, revealing raw Threadscore marks on his face
               and arm.  R'GUL hovers nearby, his dragon HATH flaming at a
               patch of Thread.

                                   R'GUL
                         Are you all right?

                                   F'LAR
                         It's a good thing that between is
                         so cold.

                                   R'GUL
                         You should head back to the Weyr
                         for healing.

                                   F'LAR
                         I'm fine, R'gul.  Thank you.

               He looks down at the DRAGONS flying in intricate patterns
               below, chasing Thread.  A Thread hits a brown dragon and it
               flickers into between before reappearing to chase more. 
               Thread hits another dragon, and another.

                                   F'LAR
                             (to Mnementh)
                         Tell the wings to fall back. 
                         There's too much.

               They turn to fly away from the Threadfall.

                                   R'GUL
                         We can't run now!

                                   F'LAR
                         We're not going to.  Form up behind
                         me.  Wedge formation!

               The dragons pull back from the heavy onslaught and form into
               a giant V behind F'lar.  They turn, diving towards the
               falling Thread at full speed.  Suddenly, they

               STOP SHORT, THEIR GIANT WINGS BACKWINGING HEAVILY.

               The dragons beat up a huge wind, which pushes the falling
               Thread south over the ocean.  The Thread fall into the water
               where they hiss and die.  The fish school around the dying
               Thread, eating them.

               The dragonmen cheer, and a few flame at stragglers.



               INT. BENDEN WEYR - NIGHT

               The Weyr is calm after hours of labor trying to heal the
               injured.  Fatigued HEALERS and WORKERS slowly trudge up and
               down the vertiginous stairs.

               This quiet is broken by the triumphant trumpeting of the
               DRAGONS as the victorious DRAGONMEN fly into the Weyr.  The
               men cheer as they peel off towards their homes, but it is an
               enthusiasm not shared by those around them.

               F'NOR'S brown dragon CANTH lands on a ledge and he gratefully
               drops to the ground.  LESSA runs up to him, her face grave.

                                   F'NOR
                         Victory, Weyrwoman!  We have forced
                         the Thread into the seas.  Rejoice! 
                         We have nearly a whole day to rest
                         and recuperate before the next
                         fall.  Why so sad?

                                   LESSA
                         Your victory comes at a high cost.

                                   F'NOR
                         How many?

                                   LESSA
                         Six dead.  Eleven too wounded to
                         fly.

               The blood drains from F'nor's face.

                                   F'NOR
                         That's...  That's not enough!  The
                         Threadfall will get worse with each
                         day.  We'll never... (trails off)

                                   LESSA
                         Where's F'lar?  Is he hurt?

                                   F'NOR
                         He has a few Threadscore but he's
                         alright.  He stayed behind to help
                         supervise the ground crews at
                         Ruatha.

               RAMOTH lands on the ledge next to them and Lessa begins to
               climb on her back.

                                   F'NOR
                         Where are you going?

                                   LESSA
                         To Ruatha, where else?

               Ramoth leaps into the air.

                                   F'NOR
                         Wait!

                                   LESSA
                         I'm tired of waiting!

               They fly away.

                                   CANTH
                             (telepathy)
                         We could try to stop her.

                                   F'NOR
                         Do you want to go after Lessa when
                         she's in a mood?

               Man and dragon eye each other for a beat.

                                   CANTH
                             (telepathy)
                         Good night F'nor.

                                   F'NOR
                         Good night, Canth.



               EXT. ORCHARD - DAY

               F'LAR and MNEMENTH walk through the rows of fruit trees with
               LYTOL, a MASTER SMITH, and two young CRAFTSMEN who carry a
               large contraption covered by a black cloth.  F'lar walks
               awkwardly in his riding leathers and firestone sack.

                                   LYTOL
                         The farmer said the Thread burrow
                         was up there.

                                   F'LAR
                         Only one?

                                   LYTOL
                         That we've found. 

               Mnementh sniffs a fruit on a nearby tree and shakes his giant
               head in disgust.

                                   MNEMENTH
                             (telepathy)
                         You eat this?

                                   F'LAR
                         You eat firestone.

               They come to a drooping tree.  Its leaves are dry and it
               bends at an unnatural angle.  The group stops and surveys the
               dying plant.  At a gesture from the master smith, the two
               craftsmen lower their load gently to the ground and start
               unpacking the device.  Lytol walks towards the tree, curious.

                                   F'LAR
                         Is this is it?

               A white tendril shoots out of the ground and strikes the
               trunk of the wilting tree.

                                   LYTOL
                         I think so.

               More tendrils explode from the affected spot; one shoots out
               at Lytol's leg and grabs his boot.  He falls to the ground
               and it begins to pull him toward the center of the mass.

                                   F'LAR
                         Mnementh!

               F'lar grabs a lump of firestone out of his sack and

               THROWS IT STRAIGHT UP.

               Mnemneth's head snakes forward and he

               BITES IT OUT OF THE AIR.

               He chews and swallows quickly then

               BELCHES FLAME AT THE THREAD.

               The mass of Thread and the tree catch fire, freeing Lytol. 
               The master weaver hurries back to safety as a golden dragon
               appears in the sky.

               Mnementh nudges F'lar and they both watch as LESSA and RAMOTH
               land.

                                   MNEMENTH
                             (telepathy)
                         Didn't you tell her to stay in the
                         Weyr?

               F'lar grits his teeth and marches to Lessa.

                                   LESSA
                         F'lar I-

               F'lar grabs her by the arms and gives her a rough shake.

                                   F'LAR
                         Don't you know how dangerous it is
                         to be here?  What if something
                         happened to you or Ramoth?  What
                         are you doing out of the Weyr?

               Lessa pulls free, fighting back tears.

                                   LESSA
                         F'nor said you were hurt.

               She reaches into a pocket and pulls out a jar of salve and
               throws it at him.

                                   LESSA
                         Here.

               By the tree, Mnementh is digging at the ground where the
               Thread had emerged.  Lytol squats down and looks into the
               hole.  Inside, Thread is growing, hissing as it expands. 
               Lessa looks down with Lytol.

                                   LESSA
                         Can we use firestone?

                                   LYTOL
                         No, phosphene emissions won't get
                         down far enough into the burrow.

                                   LESSA
                         We have to do something!  It could
                         devastate this whole orchard in a
                         day.

                                   MASTER SMITH
                         Excuse me.

               They turn to see the master smith approaching with his two
               assistants.  One craftsman has large tanks strapped to his
               back and the other is working a bellows-like pump system. 
               The smith carries a nozzle, which he points at the hole.  He

               FLIPS A SWITCH AND BROWN LIQUID SPRAYS OUT.

               As the liquid hits the Thread it shrivels and steam gushes
               out of the burrow.  Lytol looks in again and nods.

                                   LYTOL
                         Agenothree.

                                   F'LAR
                         Fertilizer?

                                   LYTOL
                         I saw an image of a similar device
                         a tapestry.

               Lessa turns to Lytol in shock.

                                   LESSA
                         Tapestry?

                                   MASTER SMITH
                         Yes, in one of the bedchambers of
                         Ruath Hold.  I extrapolated plans
                         from there.  The metal cuff rings
                         were the most difficult...

               The smith drones on, but Lessa isn't listening, she is
               remembering 

               THE TAPESTRY FROM HER BEDROOM AS A CHILD.

               She turns to F'lar with sad determination.

                                   LESSA
                         Goodbye F'lar.  I'm...  I'm going
                         back to the Weyr now.

               She kisses him tenderly and mounts Ramoth.  F'lar watches her
               go, perplexed.



               INT. BENDEN WEYR - LATER

               F'LAR and MNEMENTH fly into the Weyr.  F'lar dismounts at his
               ledge.



               INT. F'LAR'S QUARTERS - NIGHT

               F'LAR enters the room.

                                   F'LAR
                         Lessa?

               The room is empty.  He glances in the bathing chamber and
               then exits.



               INT. BEDROOM - DAY

               LESSA sits in her old bed from when she was a child.  The
               tapestry still hangs on the wall.  Lessa stares at it.  BEGIN
               TAPESTRY MONTAGE.

               Lessa looks at the walls of Ruath Hold, there are no guard
               towers.

               She looks at the giant gates, which are being built.

               She looks at the golden dragon flying overhead, which bears a
               strong resemblance to Ramoth.

               END TAPESTRY MONTAGE.

               Lessa stands.



               INT. HATCHING GROUND - NIGHT

               The room is empty except for Ramoth's eggs.  F'LAR enters
               and, seeing the unguarded eggs, stops short.

                                   F'LAR
                         Lessa?

               F'NOR appears behind him.

                                   F'NOR
                         She's still not back?

                                   F'LAR
                         Where did she go?

                                   F'NOR
                         To find you.  She was going to tell
                         you-

                                   F'LAR
                         Tell me what?

                                   F'NOR
                         Nearly a third of our number are
                         dead or injured.  We won't be able
                         to stop the next Threadfall. (a
                         beat) She didn't tell you?

               He stares at F'lar, who stares back blankly at him, a look of
               horrified comprehension on his face.

                                   F'LAR
                         The tapestry.  Come on, man, we
                         must get to Ruatha!

               He runs out, F'nor chasing him.



               EXT. COURTYARD - DUSK

               LESSA enters the courtyard of Ruath Hold where RAMOTH sits
               waiting for her.

                                   RAMOTH
                             (telepathy)
                         Did you find it?

                                   LESSA
                         Yes.

               They launch into the air and hover above the hold.



               EXT. ABOVE RUATH HOLD - DUSK

               Lessa visualizes

               THE TAPESTRY WHICH TURNS INTO AN ACCURATE IMAGE OF THE HOLD
               FIVE HUNDRED YEARS AGO.

                                   LESSA
                         Do you see it?

                                   RAMOTH
                             (telepathy)
                         Yes.

                                   LESSA
                         Can you do it?

                                   RAMOTH
                             (telepathy)
                         I don't know.

               They 

               FADE INTO BETWEEN.



               EXT. COURTYARD - NIGHT

               F'LAR and F'NOR land in the torchlit courtyard.  LYTOL and
               TWO RETAINERS come out to meet them.

                                   LYTOL
                         Weyrleader, to what do we owe-

                                   F'LAR
                         Lessa!  Where's Lessa?

                                   LYTOL
                         Gone.

               F'lar goes numb with shock.

                                   F'NOR
                         Gone?  Gone where?

                                   LYTOL
                         I don't know.  She went into one of
                         the bedrooms and sat staring at the
                         wall for an hour.  Then she just...
                         left.

               F'lar turns to his brother.

                                   F'LAR
                         Return to the Weyr and have one of
                         the injured greens watch over
                         Ramoth's eggs.  Maybe B'fol's
                         dragon can do it.

                                   F'NOR
                         B'fol's green?  But if Ramoth
                         catches a green near her eggs-

                                   F'LAR
                         She won't.

                                   F'NOR
                         F'lar-

                                   F'LAR
                         She's not coming back!  They've
                         gone between times looking for
                         dragonmen.

                                   LYTOL
                         But...  That's crazy!

                                   F'LAR
                         Those eggs are the last hope of
                         Pern.  And hurry, Thread will be
                         falling over Telgar in less than an
                         hour.



               EXT. BETWEEN

               LESSA and RAMOTH fly through the black of between.

               LUB-DUB.

               The frost forms.

               LUB-DUB.

               Lessa leans forward and closes her eyes.  The frost covers
               her face, sealing her eyes and nostrils.

               LUB-DUB.

               They continue to fly on, growing smaller and smaller. 
               Ramoth's eyes are faint, yellow pinpricks.

                                   LESSA
                             (s.v.)
                         Ramoth, I'm scared.

                                   RAMOTH
                             (telepathy)
                         I am here with you.

               The heartbeats get quieter as they continue.

               LUB-DUB.  LUB-DUB.  LUB-DUB.

               The heartbeats stop.



               EXT. ABOVE TELGAR HOLD - MORNING

               F'LAR, F'NOR, and FIFTY-FIVE DRAGONMEN hover above the Hold. 
               They are a ragged bunch, most are fatigued and some are
               injured.  Still, they face the dawn with grim determination.

                                   F'NOR
                             (to F'lar)
                         It's possible she made it.  All the
                         other Weyrs were abandoned.  If she
                         convinced them to come between
                         times to help...

                                   F'LAR
                         Yes, but we don't know if they will
                         make it back.  To make one such a
                         journey is nearly impossible, but
                         twice?  She would be lost in the
                         void.  And without Lessa to guide
                         them, the other dragons would be
                         lost as well.

               Ahead of them, some clouds begin to glow silver white.
               Glowing thread appear from inside the clouds, twirling down
               from the skies like fireworks.  More appear and more and
               more, falling slowly, a giant swath of death.

                                   F'LAR
                             (yelling)
                         Dragonmen, hear me!  This is the
                         life we lead.  We are sworn to
                         protect Pern, no matter the cost. 
                         But we are more than protectors, we
                         are symbols.  Whether we live or
                         die is unimportant; only the
                         attempt matters.  We are prepared
                         to sacrifice all for the betterment
                         of the world.  If nothing else
                         comes of this day, we will be
                         remembered for as long as life
                         exists on the world below us.

               The dragonmen, stirred by the speech, sit up straighter. 
               Some feed firestone to their dragons.  They hover, fanned out
               to a giant wedge as the Thread falls.

                                   F'LAR
                         Dragonmen!  Break and attack!

               With deafening roars from both dragons and men, the wedge
               explodes forward, splitting up as they fly.  Each dragon and
               rider spirals off in a different direction.

               BEGIN FIGHTING MONTAGE

               R'GUL and a blue rider burn a path through the Thread.

               F'NOR'S DRAGON rises on a thermal, flaming and spinning
               upwards.

               B'IRTO and TWO OTHER DRAGONS chase a patch towards the
               ground.

               A BROWN RIDER pauses to feed firestone to his DRAGON and is
               hit by Thread.  They disappear into between.

               END FIGHTING MONTAGE

               F'LAR watches as a dozen dragons are hit by Thread and wink
               out into between.  As soon as they reappear they are hit
               again and again.  The dragons are soon surrounded by the
               silver hail.

                                   F'LAR
                         It's too much!  Regroup!

               F'lar feeds firestone to Mnementh as they drive towards an
               unusually thick patch of Thread.  When they are in striking
               distance a

               JET OF BLUE FLAME ENGULFS THE THREAD.

               Mnementh backwings as a golden dragon zooms past.  F'lar
               stares in shock at the young woman riding the dragon, a
               primitive flamethrower in her hands.

                                   GOLD RIDER
                         Sorry!  Was that yours?

               F'lar turns to see that she is leading

               A GROUP OF EIGHTEEN HUNDRED DRAGONRIDERS.

               The new dragons weave through the sky, devastating the
               Thread.  Fifteen other gold dragons fly among the group, all
               their riders using flamethrowers.

               A BRONZE DRAGON spirals up to hover in front of F'lar.  Its
               rider, T'TON is a mature man wearing riding leathers of an
               angular design.

                                   T'TON
                         Are you F'lar?

                                   F'LAR
                         Yes.

                                   T'TON
                         I am Weyrleader T'ton of Fort Weyr. 
                         We bring eighteen hundred dragonmen
                         and sixteen queens.  I am told our
                         old Weyrs are still available.

                                   F'LAR
                         You came forward four hundred years
                         to help?

                                   T'TON
                         In my time, the Red Star had moved
                         away.  With no more Thread to
                         fight, we were...bored.  A
                         dragonman lives to fight Thread!

               F'lar, still stunned, watches as a group of three queens
               skillfully burns a patch of falling Thread with
               flamethrowers.

                                   F'LAR
                         You allow your queens to fight
                         Thread?

                                   T'TON
                         Allow?  Just try and stop them!

               F'lar chuckles.

                                   T'TON
                         If I may be so bold, Weyrleader,
                         you look tired.  Take your men and
                         return to your Weyr.  We can handle
                         the rest.

               F'lar nods in departing and his dragons turn away from the
               battle.



               INT. HATCHING GROUND - DAY

               A GREEN DRAGON with a bandaged wing screams in dismay and
               backs up, her wings extended as far as the bandage will
               allow.  RAMOTH, also screaming and also with wings open,
               chases her around the room, eyes glowing orange.  The green's
               rider F'RAD, a lean man with a bandaged arm, stands near
               LESSA, deeply distressed.  Lessa's face and hands are badly
               burned from frostbite.

                                   F'RAD
                         But, Weyrwoman, we were told to
                         watch them!

                                   LESSA
                             (ignoring him)
                         That's right, Ramoth.  You show her
                         whose eggs they are.

               Ramoth snaps, her teeth clashing together only inches from
               the green's neck.

                                   F'RAD
                         Please!  She's injured.  She can't
                         even fly.

               Ramoth swipes at the other dragon with a paw and the green
               jumps into the air, unfurling her wings far enough to tear
               the bandages open.  She claws at the walls and manages to get
               enough momentum to fly, wobbily, out of the Weyr.

                                   LESSA
                         Looks like she flies well enough to
                         me.

               F'rad snorts indignantly and leaves as Ramoth settles down to
               protect her eggs.  Lessa calms her.

                                   LESSA
                         Hush.  They're all there.  Your-

               She sees F'LAR standing rigidly still at the entrance.  Her
               face goes white.

                                   LESSA
                         F'lar, I-

               F'lar marches towards her, his jaw clenched with emotion. 
               Lessa backpedals into Ramoth, tears springing to her eyes.

                                   LESSA
                         Ramoth, help!  He's going to shake
                         me.

               Ramoth gently pushes Lessa forward with the top of her head. 
               F'lar suddenly grabs Lessa and pulls her into a crushing hug.

                                   F'LAR
                             (s.v.)
                         I thought I had lost you.

               As they embrace one of the

               SPECKLED EGGS BEGINS TO ROCK.



               INT. HATCHING GROUND - LATER

               The same egg

               CRACKS OPEN.

               A BRONZE HATCHLING crawls out and heads for a LINE OF YOUNG
               MEN in white who are carefully spaced out.  As the hatchling
               moves through them, searching, the men gently step away.

               The hatchling finds the boy he is looking for and stops at
               his feet, keening.  NATON bends forward and strokes the eye
               ridges of the hatchling.

                                   NATON
                         His name is Lioth!

               Behind him a GIANT CROWD, full of DRAGONMEN and LORD HOLDERS,
               cheers.  In the middle of the crowd, LARAD turns to MERON

                                   LARAD
                         Isn't that your son, Naton?

               Meron nods, swelling with pride.

                                   MERON
                         I guess it's N'ton now.

               Below them the golden egg hatches and the young QUEEN
               struggles forth towards a calm group of white-robed women. 
               As LESSA watches from the crowd, the hatchling makes its way
               directly towards KYLARA who stands in the middle of the
               group.

                                   KYLARA
                         Her name is Prideth!

               The crowd cheers, but Kylara takes no notice of them.  She
               has turned to look directly at Lessa, her eyes streaming with
               grateful tears.

               Lessa smiles back then turns to see F'LAR slowly working
               himself through the crowd toward the exit.  She follows.



               INT. VIEWING ROOM - DAWN

               It is still dark outside and the Red Star glows brightly just
               above the horizon.  F'LAR stands at the edge, looking out at
               his mortal enemy in the sky.

               LESSA enters quietly and stands next to F'lar.

                                   F'LAR
                         We can go anywhere.  You showed us
                         that.  We can go to any time or any
                         place.

                                   LESSA
                         You're going to the Red Star?

                                   F'LAR
                         Soon.  When we're ready we're going
                         to take the fight to the Thread's
                         home.

                                   LESSA
                         We are pledged to protect Pern.

               He kisses her and they stare out at the Red Star together,
               holding hands.  Everything darkens until nothing but the Red
               Star can be seen.

               FADE OUT