I'm beginning to think there is something to this idea that God is trying to thwart me.
A quick recap:
First, I was going to go skydive on May 15th.
The day came and…
It was raining, so I rescheduled to the 28th.
The 28th came and I took the class, but I couldn't jump because…
It rained (twice) and then the wind kicked up almost twice as high as the limit for first time skydivers.
I rescheduled the jump for June 5th and, now that I look at the forecast…
That's right, THUNDERSTORMS.
Those of you who don't live in northern California (or central California, as my brother calls it), have to understand, we don't get lightning here.
Worst of all is the problem that I decided not to get a hair cut until it was over, leaving me with…
Hippie hair!
So, yes, maybe I am the subject of a divine intervention.
Perhaps God or gods are trying to tell me something.
"Maybe if we'll try snow, he'll give up."
Of course, you know this means I'm a prophet.
I have a direct connection with powerful beings who control the weather and, maybe, more.
Whole countries had better appease me or else I might schedule a skydiving trip and cause tornadoes to destroy them.
I think I need a cult of young women like Baltar had in Battlestar Galactica…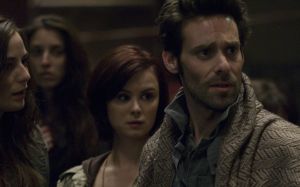 It's the accent, right?
Of course, with my luck…
Although, I hear Betty White is quite the party girl.